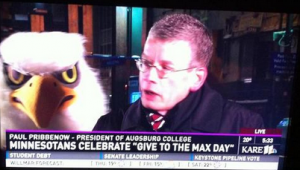 Augsburg College garnered media attention for its stellar achievement on Give to the Max Day 2014. The College raised about $434,000 and allowing the College to reach its goal of coming in first place among all Minnesota colleges and universities. Augsburg placed second overall among all Minnesota nonprofits. Learn about, read, and watch some of the news coverage below:
KARE 11: President Paul C. Pribbenow appeared on live television on the morning of November 13 to discuss with reporters the value of Give to the Max Day. He was accompanied by Auggie Eagle.
Star Tribune: "Minnesotans dig deeper than ever on Give to the Max Day"
WCCO 4: "Minnesota Sets A Record On 'Give To The Max' Day"
See more about the community excitement related to Give to the Max Day on the Augsburg College Alumni blog.