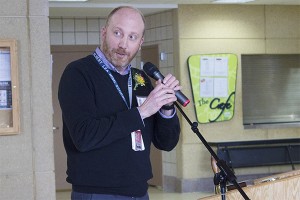 Todd Lange '92 was mentioned in the Albert Lea Tribune as a result of receiving the Albert Lea High School 2015 Teacher of the Year Award.
Lange, who has taught English in the southern-Minnesota school district for 18 years, also heads the English department at Riverland Community College.
Lange holds a master's degree in teaching from Minnesota State University, Mankato, a bachelor's degree from St. Olaf College, and a teaching license from Augsburg College and the University of Minnesota.
To read more on Lange's Teacher of the Year Award, visit the Albert Lea Tribune news site.