By STEPHANIE WEISS
Life in the United States: Different, but not weird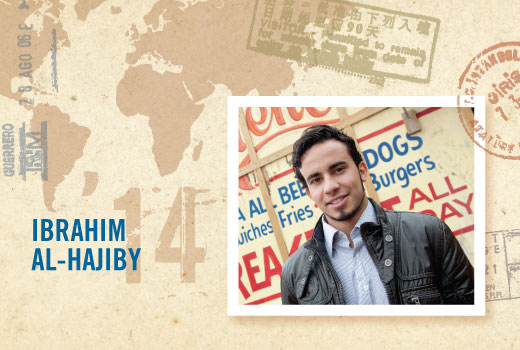 Ibrahim Al-Hajiby's time in America is a study in contrasts.
He first came to the United States during 2007 as a high school exchange student. He crossed the globe from Yemen's capital city of Sana'a to Cloquet, Minn.—in the dead of winter.
"I always seem to come to Minnesota in the winter," he said. "In Cloquet, I loved McDonald's double cheeseburgers. I would eat one every day. Even in winter, I'd ride my bike and the wheels would just spin in the snow."
Volunteerism and politics are different, too.
"I live in one of the most conservative countries in the Middle East, and we have a tribal culture," said Al-Hajiby, 20. "In Yemen, our schools are focused on academics— there isn't the focus on serving the community."
Al-Hajiby volunteered time since first arriving in the U.S. and next year will serve as an officer of the International Student Organization.
Al-Hajiby said that a key to his success in America is to embrace wherever he is living, and to be open to new experiences and people.
"One of my host moms and I have a slogan: 'It's not weird, it's different'," Al-Hajiby said.
Al-Hajiby said he misses and worries about his parents and sister but is glad that his brother also is in Minnesota this year. His country is in turmoil with protests against the government, and some demonstrations turn deadly.
"I know people who have been killed," he said. "My parents' last words on the phone are that they are glad my brother and I are here and that we are safe."
Al-Hajiby is an honors student in chemistry and recipient of Augsburg's International President's Scholarship. He hopes one day to return to Yemen to start a non-governmental organization.
"I really want to go back at one point and make a change," Al-Hajiby said. "I feel like God has chosen me to pursue such a fine education so I can go back and help."