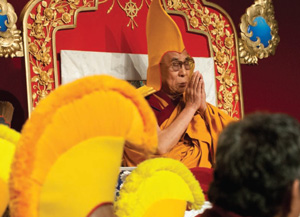 AUGSBURG WAS THE SITE OF A HISTORIC EVENT
March 2 when it hosted the Tibetan American Foundation of Minnesota's Losar celebration in Si Melby Hall. His Holiness the 14th Dalai Lama presided over this Tibetan New Year ceremony—the first time he observed the holiday in the western hemisphere.
Sitting on the floor and filling the bleachers, more than 2,500 guests packed Augsburg's gymnasium, which had been transformed (literally) overnight from the site of a wrestling tournament to an ornately decorated space. After the ceremony and the departure of attending dignitaries—including Augsburg College President Paul Pribbenow and Abigail Pribbenow, Minneapolis Mayor Betsy Hodges, and U.S. representatives Keith Ellison and Betty McCollum—guests continued the festivities with traditional music, dancing, and food—rice, jerky, deep-fried pastries, dumplings, butter tea, and more. Dozens of Augsburg staff, students, and volunteers worked the event, demonstrating how Augsburg lives out its commitment to hospitality.
Losar celebration photo gallery