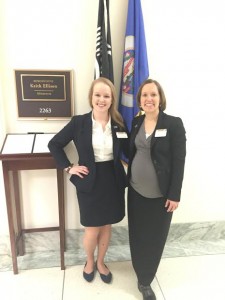 Augsburg PA student Megan McGovern recently participated in the inaugural Future Educator Fellowship developed by the Physician Assistant Education Association (PAEA). She was selected through a competitive application process and was one of 25 PA students from across the country to participate in the two day fellowship experience at the PAEA Education Forum in Washington, D.C. on November 13-14, 2015. The fellowship was developed for PA students pursing a career in medical education and to assist students to begin building skills for transitioning into teaching roles. Fellows took part in sessions around issues of health education research, advocacy, and leadership. Megan will be graduating from the Augsburg PA Program in December 2015, and is interested in practicing in Pediatric Endocrinology.
As part of the Future Educator Fellowship, Megan and Jenny Kluznik, MPH, PA-C (Assistant Professor in the Augsburg PA Program) took part in Hill Day, a large-scale advocacy event for PA education. Megan and Professor Kluznik met with legislative staff from Congressman Keith Ellison's and Senator Al Franken's office to discuss two new pieces of legislation that were recently introduced before the U.S. House of Representatives. The legislation seeks to increase resources of PA program and students, address issues such as student debt and loans, and overall aims to increase quality health care in underserved areas.
For more information about the Future Educator Fellowship:
http://www.paeaonline.org/future-educators-inspired-forum/.
For more information about the Hill Day and PA education legislation:
http://www.paeaonline.org/new-legislation-to-ensure-a-robust-future-pa-workforce/