Approximately 16 months of the program is didactic, or classroom work, including courses in human gross anatomy, pathophysiology, clinical medicine, pharmacotherapy, history and physical exam skills, research methods, and professional issues in medicine. In addition, clinical practice seminar is a small-group, case-based course that offers the unique opportunity to integrate and apply material from each of the courses to real-world patient cases.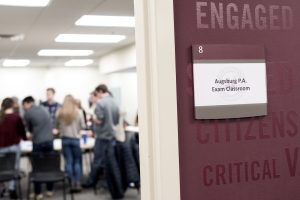 The academic phase of the program focuses on active learning and challenges students to develop skills in clinical–decision making, interpersonal communication, and developing content knowledge needed to provide patient care in the ever-changing healthcare landscape. The program utilizes:
lecture-based sessions
small-group discussions/activities,
simulated patients
technical skills workshops (i.e. suturing, casting/splinting)
Other experiential learning opportunities during the academic phase
A unique opportunity offered at the Augsburg PA Program in the academic phase is the Master's project component. During the second summer of the program, students have the option to enroll in an elective course offered through another Augsburg department or independently research  a clinical topic in-depth. Students complete a clinical research paper based on the course content or specific research question.