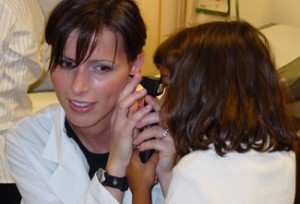 Technical Standards
The Augsburg College Department of Physician Assistant Studies is pledged to the admission and matriculation of qualified students and wishes to acknowledge awareness of laws which prohibit discrimination against anyone on the basis of race, color, national origin, religion, sex, age or disability.
Regarding disabled individuals, the PA department will not discriminate against such individuals who are otherwise qualified but will expect all applicants and students to meet certain minimal technical standards.
The physician assistant must have the knowledge and skills to function in a broad variety of clinical situation and to render a wide spectrum of patient care.  They must be able to integrate all information received by whatever sense(s) employed, consistently, quickly, and accurately, and they must have the intellectual ability to learn, integrate, analyze, and synthesize data.
Candidates for physician assistant certification offered by this department must have, with or without reasonable accommodation, multiple abilities and skills including: visual, oral-auditory, motor, cognitive, and behavioral/social.  Candidates for admission and progression must be able to perform these abilities and skills in a reasonably independent manner.
Visual: Candidates must be able to observe and participate in experiments in the basic sciences.  In order to make proper clinical decisions, candidates must be able to observe a patient accurately.  Candidates must be able to acquire information from written documents, films, slides or videos.  Candidates must also be able to interpret X-ray and other graphic images, and digital or analog representations of physiologic phenomena, such as EKG's with or without the use of assistive devices.  Thus, functional use of vision is necessary.
Oral-Auditory: Candidates must be able to communicate effectively and sensitively with patients.  Candidates must also be able to communicate effectively and efficiently with other members of the health care team.  In emergency situations, candidates must be able to understand and convey information essential for the safe and effective care of patients in a clear, unambiguous and rapid fashion.  In addition, candidates must have the ability to relate information to and receive information from patients in a caring and confidential manner. Thus, functional use of hearing and speech is necessary.
Motor: Candidates must possess the motor skills necessary to perform palpation, percussion, auscultation, and other diagnostic maneuvers.  Candidates must be able to execute motor movements reasonably required to provide general and emergency medical care such as airway management, placement of intravenous catheters, cardiopulmonary resuscitation, and application of pressure to control bleeding.  These skills require coordination of both gross and fine muscular movements, equilibrium and integrated use of the senses.
Cognitive: In order to effectively solve clinical problems, candidates must be able to measure, evaluate, reason, analyze, integrate and synthesize in a timely fashion.  In addition, they must be able to comprehend three dimensional relationships and to understand the special relationships of structures.
Social: Candidates must possess the emotional health required for the full utilization of their intellectual abilities, for the exercise of good judgment, for the prompt completion of all responsibilities attendant to the diagnosis and care of patients, and for the development of effective relationships with patients.  Candidates must be able to tolerate physically taxing workloads and function effectively under stress.  They must be able to adapt to changing environments, display flexibility and learn to function in the face of uncertainties inherent in the clinical problems of patients.
The following represents the policy of the Augsburg College Physician Assistant Program with regard to the identification of candidates with disabilities and the provision of reasonable accommodations.  Although a candidate's self-identification as a person with a disability is voluntary, the PA Program can only accommodate known disabilities.
1. For the purposes of this policy, the definition of disability will be that used in the Americans with Disabilities Act, with the exclusions as referenced in the Act.  That definition is as follows "an individual is disabled if he or she, 1) has a physical or mental impairment that substantially limits one or more of the individual's major life activities; or 2) has a record of such an impairment; or 3) is regarded as having such an impairment."
2. In order to establish the existence of a disability and to facilitate accommodation, a candidate must provide appropriate notice to the Center for Learning and Adaptive Student Services (CLASS) office, detailing the existence and nature of the disability and the requested accommodation.
3. Once the need for and availability of reasonable accommodations has been established, the CLASS office, will decide on appropriate accommodations and these accommodations will be specified in a written document to the student.  It is the student's responsibility to provide the letter from the CLASS office to the PA department faculty if the student wishes to receive accommodations.
4. If a candidate is dismissed from the PA Program, asserting that the reason he or she failed was a previously unrecognized disability, the PA Program may consider the effect of the unrecognized disability in making a decision as to the candidate's appeal to be reinstated.  The factors on which a decision will be made include whether the candidate is qualified to meet the technical standards and any other relevant information.  The candidate must provide documentation of the claimed disability as specified above.
5. All claims and proceedings under this provision will be kept confidential to the extent provided by law and College policies.  Dissemination of the knowledge of the existence of a disability will be restricted to College administrators with a legitimate need to know this information.  Except as provided by law, no mention of the candidate's disability will appear in any Program correspondence with external agencies unless the candidate specifically requests such disclosure in writing.
Experiential Learning Policy
The Augsburg Physician Assistant program does not award academic credit to an individual for experiential learning. Applicants desiring admission to Augsburg's PA Program must satisfactorily complete all prerequisite courses. Experiential learning will be considered separately from prerequisite courses. Experiential learning prior to and during admittance to the Augsburg PA Program will not substitute for any part of the clinical year or preceptorship.
Advanced Placement
The Department of PA studies does not offer advanced placement to admitted students. All students admitted to the PA Program must complete the entire curriculum.
Employment While in the Program
Program faculty discourage outside employment while in the Physician Assistant Program. Faculty do recognize that employment may be an issue that some students will face. Given this recognition, realize that program obligations will not be altered due to a student's work obligations. It is further expected that work obligations will not interfere with the Physician Assistant Students' learning progress or responsibilities while in the program.
Student Health Insurance
All PA students are encouraged to obtain and maintain their own health insurance coverage throughout their enrollment in the Augsburg College PA Program. Students may be required to provide proof of health insurance upon request by individual clinical sites. Augsburg College does not offer a student health insurance plan, however, information regarding carriers who offer student rates can be found at the Center for Counseling and Health Promotion. All costs related to personal health care are the responsibility of the student.
Withdrawal and Readmission Policies
1. Withdrawal
Voluntary withdrawal from the Physician Assistant Program may be initiated by a student after submission of a letter to the Program Director requesting withdrawal. In the letter, the student should outline the circumstances and reasons for withdrawal. Students will be requested to conduct an exit interview with the Program Director prior to leaving the program. All students are further advised to follow the college catalog procedure for withdrawal from the College.
2. Readmission
Students may request readmission after voluntary withdrawal by submitting a letter to the Program Director stating the reasons the student wishes readmission and the anticipated date for readmission. The submission of a letter and previous enrollment does not constitute automatic acceptance and/or reentry into the program.Reapplication to the PA Program after dismissal from the program will be considered only under extremely unusual circumstances. Students who submit letters will be reviewed by the program faculty. Any student requesting readmission will be considered a new applicant to the program and will be required to complete the program application process as a new applicant, and may be required to repeat course work.
Reapplication does not guarantee readmission to the Physician Assistant Program. After careful review of the students' previous academic record and the request for readmission, a decision will be made. Students may be required to repeat selected course work or meet new requirements of the Physician Assistant Program that became effective after the student's withdrawal. A decision will also be rendered as to what program course work will be considered for credit as completed.