Developing an honors thesis with one-on-one mentoring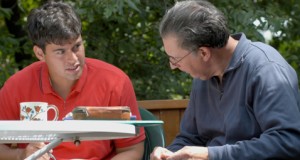 Augsburg Senior and philosophy major, Alex Krantz studies with professor of philosophy, Dr. Markus Fuehrer as part of a 10-week program to help him develop his honors thesis. The study sessions take place at Dr. Fuehrer's home, on the back deck when the weather permits, or in the basement study where his extensive personal library of over 6,000 books can be consulted as references.
"It's a privilege to have his attention to myself," Krantz says of the one-on-one mentoring he receives. "In addition to being researchers, the professors at Augsburg are interested in teaching." This provides unique opportunities such as this for the serious student.
In return, Dr. Fuehrer enjoys the chance to concentrate on Alex's project and to think critically about the material with such a talented student in this "comfortable setting that invites meditation."