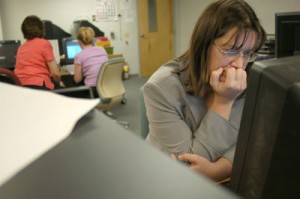 The faculty provide the depth and quality of instruction you'd expect from a college like Augsburg.
The faculty members who teach in Rochester are the same faculty who teach on the Minneapolis campus. In other words, as a Rochester student, you'll be receiving the same caliber of instruction as the students at Augsburg's main campus.
The fact that four out of five faculty members hold the highest degree attainable in their field is proof of the expertise of the Augsburg professors who you'll be learning from and working with. Many instructors also have in-depth professional experience in their discipline. We consider both types of background – the scholastic as well as the professional – to be valuable in your education. And while many of our faculty are also involved in research, they consider teaching their primary focus.
The factor that will benefit you most is that Augsburg faculty are experienced in teaching adult learners. After all, Augsburg began its programs for adult students in 1982. The faculty understand that you are juggling a career, family, and other responsibilities. They value your life experience and allow you to bring your own ideas and perspectives into the classroom. In fact, they expect that you will. In turn, you will be able to immediately apply the topics covered in class to your job and your life.
That's the Augsburg advantage.