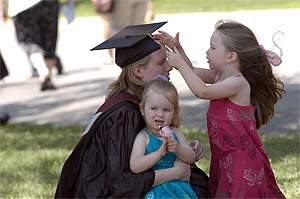 How you will pay for college is an important consideration for you and your family. We want to help you see how Augsburg for Adults can be an affordable option and an investment in your future.
First, you need to apply for admission. After you are admitted, we encourage you to apply for financial aid, even if you aren't sure you will qualify. When you receive a financial aid award notice from Augsburg, you can discuss it with a financial aid counselor to determine the best financing plan for you.
Many students finance their education through a combination of options including state and federal loans and grants. Augsburg  also works with many students who receive tuition reimbursement from their employer. Contact us for more information about financing your Augsburg education.