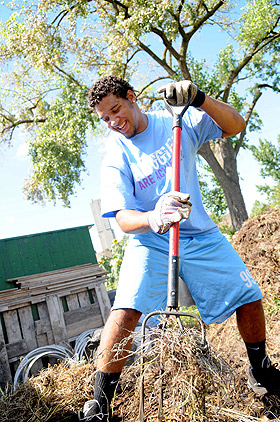 Every year, more than 70 courses at Augsburg include a course-embedded service-learning component. Students average 25 hours per semester in service-learning experience directly connected to course objectives and learning goals. Augsburg's service-learning partners are in schools and community organizations in the inner city of Minneapolis. The majority of these sites serve refugee and immigrant populations within a mile of the campus. At Augsburg, service and community engagement are chosen as carefully as a textbook and designed as deliberately as a midterm or a lecture. Students see that the service component is neither an afterthought nor an "add-on" to already existing aspects of the curriculum. Critical components include clear links between community engagement, course objectives and student reflection.
On the day before fall semester classes begin, incoming first-year students participate in service projects in the neighborhoods that surround campus. City Service Day has become an Augsburg tradition that introduces them to organizations where they can continue to serve and learn throughout their education. Across Minneapolis, Augsburg students cleaned churches, painted low-income medical clinics and performed other service work.  The manager of a small non-profit theater said, "Thanks to Augsburg students we're ready for the new season, they cleaned and painted more than our staff could have done in a month."
Augsburg President Pribbenow emphasized that the day is "simply the beginning of the integrated way service is connected to all we do." Augsburg sees its neighbors as "part of our faculty," he said. So students aren't simply giving back to the community. They're learning from it.