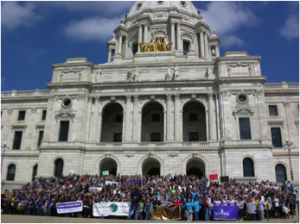 With a fantastic turnout, and fabulous weather, the 18th Annual Social Work Day at the Capitol was one of the largest SWDAC gatherings ever.
About 780-plus students faculty, supporters (and staff) massed for a march from the MN History Center to a rally in the rotunda of the state capital building.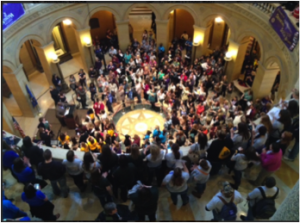 Augsburg BSW & MSW lead the marchers down the parade route and into the capital.
There were inspirational speeches followed interesting presentations.
Congratulations to the BSW students coordinators, Sara Huffman '14, Joe Vital '15 and Sheng Vang '15, MSW student coordinator, Shareen Reda and faculty members, Drs. Lois Bosch, Ericka Kimball, Barbara Lehmann and Christina Erickson – and to Nicole Lach '14 as one of the NASW-MN coordinators.