Maria Helgerson '07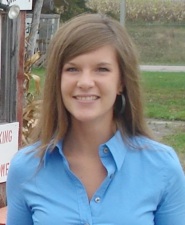 Maria Helgerson graduated with degrees in sociology and secondary education – social studies. She student taught psychology at South High School in Minneapolis in fall 2007 and served as an educational assistant at Fine Arts Interdisciplinary Resource School (FAIR), a nationally recognized fine arts middle school in Crystal, MN in spring 2008.
Here she is the manager of campus relations and recruitment for fahrenHEIGHT360, a Minneapolis-based consulting company with expertise in the up and coming generation (18-28 year olds). Sociological and psychological research informs all of the services offered to both students and businesses.
At career fairs, free networking and professional development events, galas, campus workshops, corporate presentations, in classrooms and through job and internship placement, Maria educates and informs students, campus communities and businesses about starting careers, professional development, innovative business best practices, generations in the workplace and more.
Dan Ryan '07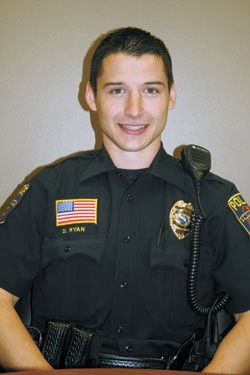 On Thursday, September 23, 2010, Dan was profiled in an article by Elizabeth Nelson, staff writer for the Star News. The following is the text from that news article:
Newest Rogers officer wants to give back
Daniel Ryan is the newest addition to the Rogers Police Department. The 26-year-old was formally sworn in on Aug. 24 at a Rogers City Council meeting.
Ryan has been a member of the Army Reserves since he was 17 years old and was deployed to Iraq from March 2008 to March 2009, where he mainly did convoy escorts with the 18th Airborne Corps as part of the chemical response company.
The Osseo, Minn., native said a job in law enforcement was always an interest.
"I want to be able to give back to the community," Ryan said about his career choice as an officer.
When earning his bachelor's degree in sociology from Augsburg College, his concentration was in crime and deviance.
Ryan also completed an internship at the Bureau of Criminal Apprehension, and during his last semester at Augsburg College he was a student instructor in statistical analysis.
He graduated in the fall of 2007, and was deployed months later. He returned to earn his applied associate of science degree from Rasmussen College in law enforcement and Minnesota peace officer standards and training (POST).
He graduated from POST in June.
As of now, he is still going through probation training with the department with a schedule that includes days and nights; however, in the future he will work the night shift.
Britt Pennington '06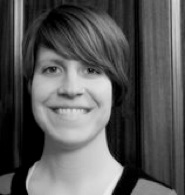 Britt graduated from Augsburg with a degree in sociology and minor in special education. For two years she worked as the office manager at NARAL Pro-Choice Minnesota, a reproductive rights non-profit organization located in St. Paul. Britt immediately found that working for reproductive justice satisfied her craving for progressive work and that the non-profit environment was an excellent fit for her personality and skill set. The flexible atmosphere of the non-profit world also allowed Britt the chance to pursue additional opportunities. While working at NARAL she was able to coach a season of high school hockey, work as a supervisor at an ice arena, and make strong connections in the progressive community.
Britt's experiences at NARAL Pro-Choice Minnesota confirmed her dedication to social justice and inspired her to further pursue a career through which she can help improve the lives of those who experience inequality. Currently Britt is in her first year of pursuing her Master's degree in counseling (educational psychology) at the University of Minnesota. Upon completion of her degree she hopes to work with lesbian, gay, bisexual, transgender, intersexual, and queer youth in both school and community agency settings.
Jacob Alan Cooper '05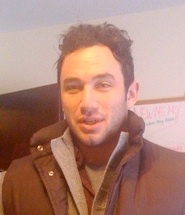 Since his graduation, Jacob has been working for a large non-profit that serves individuals with mental illness. He began working at a community-based crisis residence, where clients typically stay for 3-5 days for acute psychiatric stabilization. Jacob is now a mental health practitioner working in a long-term residential program for adults with mental illness and chemical dependency. "My education has placed me in a position where I can help others. This is totally a privilege."
Melissa Toavs '04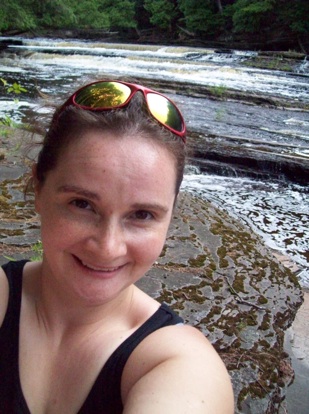 Melissa graduated with a concentration in crime and community. Here is how she describes it: "I received my calling during the summer term of 2001, while participating in a class entitled crime and community. The concepts of restorative justice and alternative sentencing were to be a part of my daily life. The message that I was to be a voice for the voiceless became clear. While at Augsburg I completed an internship with Hennepin County Drug Court. I have been involved in the drug court program since the internship in 2003. Career Probation Officer is a title that includes many roles. I am an ear, an intervention specialist, an enforcer, a teacher, a student, a community leader, a supporter, and an inspiration. I have found a passion for teaching cognitive behavior skills to clients. I want their current probation experience to be their last. I teach two curriculums that aid in offender change, namely Beyond Trauma and Thinking for a Change. Part of my job is to be an example to the women with whom I work. My word for this year is 'thrive.' I continue to create and achieve the goals that I have set out for myself."
Kevin Wells '04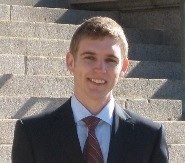 After graduating with a degree in sociology, Kevin went on to receive his JD from the University of Minnesota Law School in 2007. He is currently licensed to practice law both in Minnesota and his home state of Arkansas.
He now serves as an assistant attorney general for the State of Arkansas, working in the consumer protection division of the Attorney General's office. He has worked on numerous cases involving issues ranging from land sale fraud to "credit repair" scams, and is in charge of regulating solicitations in the State of Arkansas for charitable organizations.
A major role of his job is preventing consumer fraud before it occurs through education and outreach. Along with the other attorneys in the Office, Kevin travels to various speaking engagements in the State and gives speeches on how to avoid identity theft, prevent scams, and how to know what charitable donations are really used for.
Brandon Hofstedt '02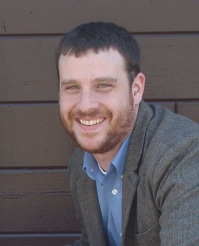 Brandon Hofstedt graduated with a degree in sociology. Following graduation, he worked for the Minnesota Public Interest Research Group as a campus community organizer at Augsburg College and Carleton College. In 2003, Brandon returned to school at Iowa State University where he earned his MS in sociology (2005) and is set to graduate with his PhD in sociology in May 2009. His dissertation research examines how local community groups mobilize around quality of life issues and attempt to influence local city planning and land-use decisions.
Brandon is currently working as a teaching fellow at St. Norbert College in De Pere, WI and has recently accepted a tenure track assistant professor position at The College of Mount St. Joseph in Cincinnati, OH.
Brandon is married to Petra Velander '02 and has two children, Cora and Owen.
Becki Frestedt '01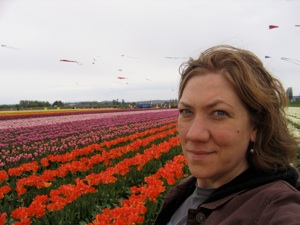 Becki Frestedt completed her degree in sociology through the Weekend College program while working as a staff member at the college. She graduated with a concentration in urban planning. While at Augsburg, she participated in a course in Cuernavaca, Mexico through the Center for Global Education studying social change in Latin America. That enriching experience inspired her to become more involved in her own neighborhood and to pursue a career in community-development.
Becki moved to Seattle, WA in 2003 to attend the Evans School of Public Affairs at the University of Washington, where she received a master of public administration degree in 2005. Upon graduation she worked as a consultant for a trio of neighborhoods in downtown Seattle (International District, Pioneer Square and the SODO industrial area), conducting community outreach related to a proposed land use rezone. In 2006 she accepted a position with the City of Seattle's Department of Neighborhoods, where she works as a historic preservation coordinator for two of the city's historic districts—International District and Columbia City. She is still actively involved in her neighborhood and thoroughly enjoys her work. She is smitten with the Pacific NW and enjoys getaways to Vancouver, BC and Portland, OR (and beyond) whenever possible.
Jasmina Besirevic Regan '97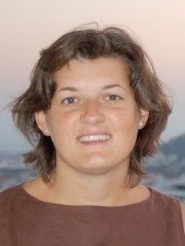 Jasmina Besirevic Regan graduated summa cum laude earning a degree in sociology. She went on to earn her PhD in sociology from Yale University in 2004 having also earned the master's degrees there. Her dissertation on ethnic cleansing in the Bosnian city of Banja Luka focuses on the emergence of a Bosnian Muslim refugee community.
Jasmina is currently the dean of Trumbull College, one of Yale's twelve residential colleges and is the chief academic adviser for the 400+ students in Trumbull. She serves on numerous university committees and is part of various speaking engagements on student life at Yale. In addition, she is a lecturer in the department of sociology, international studies, ethics, politics and economics, and ethnicity, race and migration at Yale. Her teaching and research interests include genocide and ethnic conflict, identity and nationalism. Her current work focuses on the Bosnian Muslim identity and disintegration of former Yugoslavia. She has presented papers on the sociology of genocide at a number of professional meetings and has been invited to speak at international conferences both in the U.S. and abroad.
Jasmina Besirevic lives in Trumbull College with her husband Matt Regan '95 and their two daughters, Selma and Lejla.
Amy Rice '93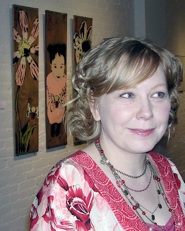 Amy Rice is a Minneapolis artist whose work is produced using stencils that she designs and cuts herself. Although this method is basically a form of printmaking, she has the freedom to experiment with color, surface texture, and grouping of objects and thus mood and tone, making each piece unique. Amy has used her exclusive technique to produce work small enough to be exhibited in a miniatures show at a Minneapolis gallery and large enough for her to be a sought after muralist. The Mayor of Minneapolis has credited Amy for assisting in the rebirth of a blighted Minneapolis neighborhood for her mural work both as an independent artist and as an organizer of community mural activities. She has shown her work in galleries throughout the U.S. and in the U.K. Amy is also known for her advocacy role on the behalf of artists living with mental illness. In 2006 she was named "Mental Health Professional of the Year" by The National Association of Mental Illness/Minnesota and was given the "Arts Accessibility Award" by the Minnesota VSA for her role in making the arts more accessible to people with disabilities. Rice draws inspiration for her work from childhood memories, both real and imagined (or just slightly exaggerated with time), the urban community in which she lives, childhood toys, vintage botanical prints, her dog Ella, bicycles, street art, random found objects, collective endeavors that challenge hierarchy, acts of compassion, downright silliness and things with wings.
Kay Hanenburg Madson '62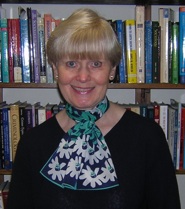 As an Augsburg sociology major, Kay was advised and mentored by one of Augsburg's earliest sociologists, Professor Joel Torstenson. Kay went on to earn an MA and PhD in sociology from the University of Minnesota. During her graduate studies, Joel invited Kay to teach several sociology courses at Augsburg. This provided the start of her college teaching career.
After a number of years at home with three young children, Kay returned to teaching—this time at Concordia University, St. Paul, where she remained for twenty-five years as a sociology professor and executive vice president of the university. During that time, she developed and taught numerous sociology courses, co-led the development of majors and minors in sociology and criminal justice, advised students, supervised internships, chaired an academic department, and led groups of students on study trips abroad. In her role as executive vice president, she worked closely with Concordia's president—frequently serving as acting president.
In the spring of 2007, Kay retired from full-time responsibilities and now teaches part-time for Concordia's traditional program and the continuing studies department. She says, "It's been a wonderful career that began with my first sociology class at Augsburg!"
Kay is married to Gregory Madson '61.