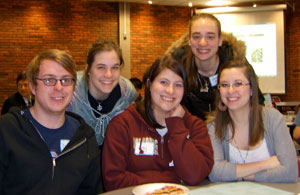 The Sociology Club would like to extend an invitation for all sociology majors, minors, and those interested to join. This club provides you with an opportunity to:
Get to know the sociology department faculty, majors, and minors
Join those with similar interests in fun and intellectually stimulating activities
Acquire a better understanding of the field of sociology and its applications outside of academia
Learn more about preparing yourself for the job market and/or graduate school
Past successful events:
Fall 2004: "The Sociology of Food Extravaganza." We hosted an event that featured international foods from local community restaurants, and heard an excellent presentation by Sociologist Tracy Ore. Professor Ore compared urban community gardening in Cuba and Detroit as part of a larger presentation on the sociological meaning and significance of food!
Spring 2004: The Sociology Club hosted two events on the topic of cooperatively run organizations. A panel presentation featured representatives from Spokes Pizza, Arise! Bookstore, North Country Co-op, and The Wedge Co-op, each of which are local organizations that are run using oranizational models that are alternative to traditional for-profit organizations.
Spring 2003: The Sociology Club formed a Museum Learning Community with the History Club. This group of students went to museums in the Twin Cities and Chicago; and read and discussed a book on the social and historical context of museum design entitled Museums and American Intellectual Life, 1876-1926; heard a lecture and met with the author of that book, Professor Steven Conn.
2000 academic year: the Sociology Club hosting the nationally acclaimed sociologist Diane Vaughan, who spoke at Augsburg on her Pulitzer-Prize nominated book, The Challenger Launch Decision.
Yearly: The Sociology Department holds a "Careers in Sociology Night" where attendees have the chance to meet and hear from Augsburg Sociology alumni! Alumni share how they use their sociological imaginations and skills in their current careers.
Days in May: We have co-sponsored "Days in May" events with the Coalition for Student Activism (and other student organizations) every year that the event is held.
We have also hosted the nationally acclaimed sociologist David Karp, who spoke at Augsburg on his book on the families of those with mental illness, Committed to Care.
Other Notable events:
A trip to a local "Hell House" depicting the horrors of the "Sins of This World," followed by a debriefing at Dairy Queen.
A "Game Night" in which we played, analyzed , and had fun with the game called Life
A screening and discussions of movies like A Clockwork Orange, The Truman Show, American History X, Gattaca, Pleasantville, At the River I Stand, and SuperSize Me.
Some possible activities for the upcoming year:
An opportunity to invite and sponsor campus speakers
Watching movies and discussing them sociologically
Excursions to local cultural events
An opportunity to learn about graduate programs in sociology and how to prepare
Finding out about the service learning opportunities available which are also directly relevant to sociology
And, of course, we welcome your ideas and suggestions!
If you have questions or are interested in joining, please contact Nancy Fischer, Sociology Club advisor, at 612-330-1095 or fischern@augsburg.edu.