Join us at the Career & Internship Fair!
---
   
---
Call for Posters: We are seeking 10-12 students to make and present posters at the Career & Internship Fair to be held on Thursday, September 28th 3-5:30pm in Hoversten Chapel.
---
Benefits for poster presenters
Opportunity to…
Reflect on and articulate impact of internship experience. 
Gain experience in designing a visual composition.
Create a high-quality product that reflects your professional experience.
Network with employers at Internship Fair – show employers (with photos!) your professional side.
Make an impact: your "story" is a great encouragement to other students. Many make the decision to look for an internship after talking with their peers.
  Poster making process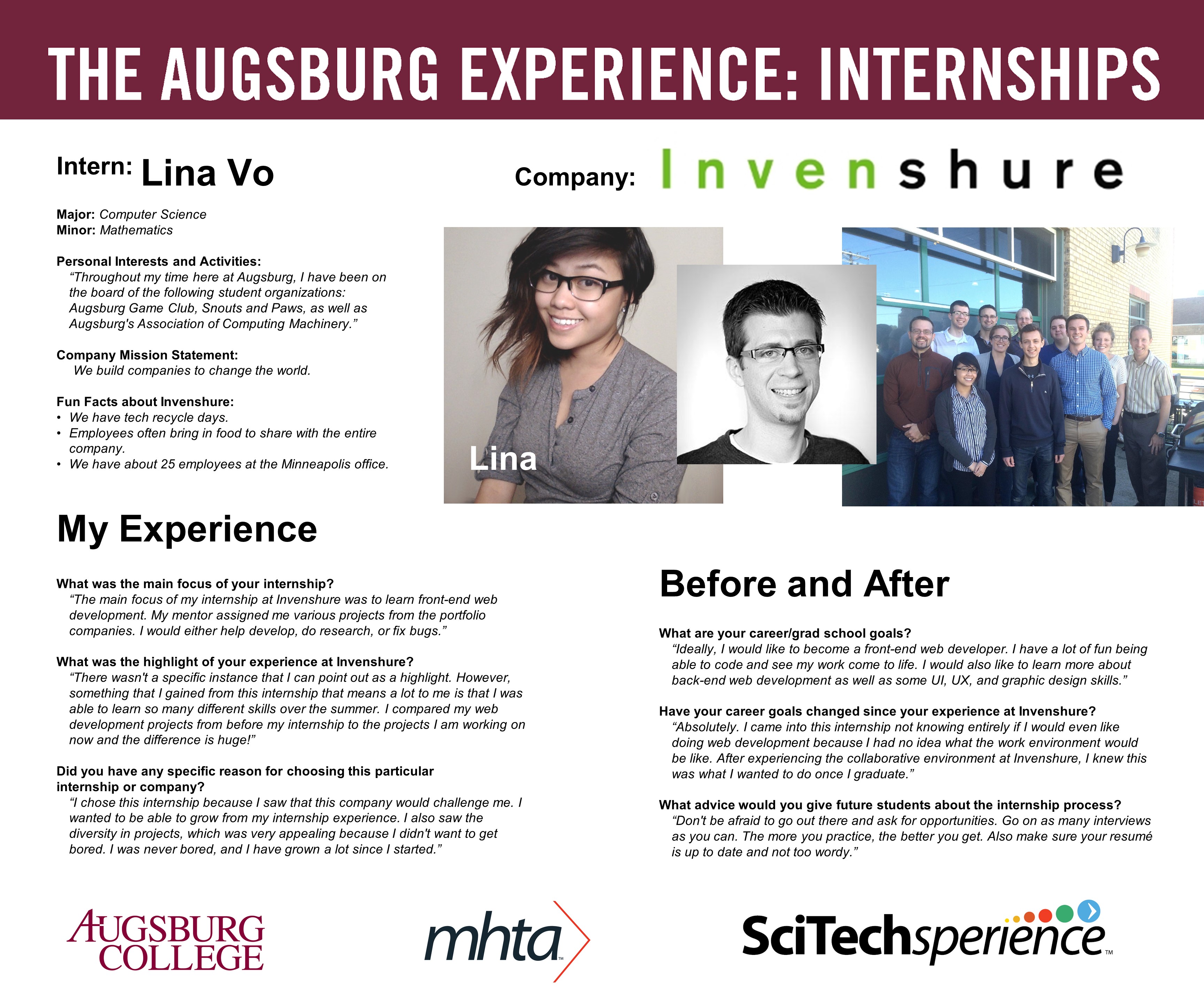 Permission. Discuss this poster project with your supervisor. Students must have permission from their supervisors to develop a poster. Be sure he/she understands that his/her name, company name, company logo, etc. will be included. Please feel free to share this webpage (and password) with your organization/company.
Content. Complete Internship Fair Questionnaire to create the content for the poster. Be aware that quotes will be pulled from this form, so be sure information is accurate and text is well-written.
Photos. Great shots are essential! Please provide us with the following high-resolution photographs by uploading them to this Google Folder. (Save the photos in a folder with your complete name): "on the job" photo, photo with mentor, head shot, and company logo. (Please do not crop original photos; send any quality phone photos in large format).
Format. Posters will be made on a standard Power Point slide using a common template. Students can choose to create their own poster (following guidelines) or have Sabrina Doré (of STEM programs) make it. The poster template can be found here.
Approval. Before printing, approval from students and mentors will be obtained. Other interested parties, such as Strommen, faculty/advisors, etc. will also have the opportunity to voice concerns/edit.
Interested? Please complete this form to let us know.
Please note: Poster presenters need to present at the Internship Fair (9/28) 3:00-5:30 pm. All students will be asked to complete the Feedback survey following the event as student input has proven to be extremely valuable. Posters and photographs remain property of STEM Programs and the Strommen Career Center.