Most people know that the best way to find a job or internship is through networking.   With the increasing use of social media across several industries, there are more and more opportunities to use social media to help you network and find out about job and internship opportunities.  It is also important to create and maintain your own professional identity online.  Here are some resources to help:
    LINKEDIN
With more than 300 million members, LinkedIn is the world's largest professional network. It is a platform to develop a professional online identity, connect with classmates, colleagues, and potential employers, and research job, industry, and market trends. Additionally, LinkedIn is a powerful job and internship search tool. There are over 200,000 jobs posted on LinkedIn, with opportunities for every industry, location, and career stage.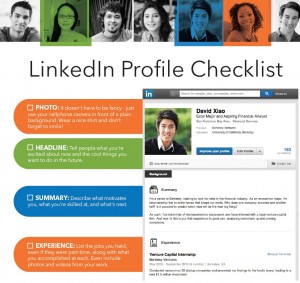 In order to utilize LinkedIn, you must first create a profile. To get started, follow the steps on LinkedIn Checklist, and we suggest visiting LinkedIn for Students to find more tip sheets on tailoring your profile to find jobs and internships and how to effectively communicate with potential connections. The following videos will give you a quick overview on how to get started:
• LinkedIn for Students: Overview
• Top 5 Profile To-Do's
After creating your LinkedIn profile, connect, connect, connect! Start building your professional network by connecting with people you know and trust. From there, join LinkedIn Groups. You can join industry-specific Groups to show your interest in a specific field of study.  We strongly recommend starting with Augsburg Groups and organizations/associations that you belong to, for example:
• Augsburg Student-Alumni Connections
• Augsburg University
See what alumni are using their degree for and where they are working by using the alumni search tool under "my network.  Download instructions to search for alumni and samples of a tailored invitations.
Search for jobs and internships on LinkedIn
For more help creating your LinkedIn profile, schedule an appointment with a career coach or plan to attend an upcoming hands-on workshop on LinkedIn:
• Check back for upcoming dates
    FACEBOOK
• Join the Strommen Career and Internship Services group for career advice, job postings, event updates and more
• Update your status to say what type of job you are seeking
• Network with business colleagues, friends, and recruiters of companies you are targeting
• Participate in groups
• Become a friend with "Auggie Eagle" to connect with fellow Auggies
• Consider joining Beknown.com, Facebook's professional networking app (similar to LinkedIn, affiliated with Monster.com)
    TWITTER
• Follow @AuggieCareers for career advice, job postings, event updates and more
• Create a professional-looking Twitter background
• Job pitch on Twitter-bio
• Follow companies and recruiters of interest: http://www.twitjobsearch.com/
• Follow job feeds: search hashtags like: #nhjobs, #jobs, #internships
• Twitter chats: tweetchat.com, #careerchat, #JobHuntChat, Tweetmyjobs.com
    PINTEREST
• Follow the Strommen Career and Internship Services Pinterest page for career-related tips and tricks
• Create your own Pinterest page to showcase your unique interests and values
• Follow companies and organizations that you would like to work for
Employers check social media websites to screen potential candidates. All information you share has the potential to become public, so carefully consider any content before you post it.