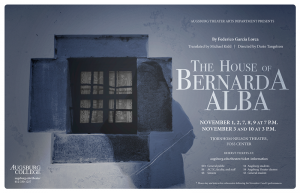 By Federico García Lorca
Translated by Michael Kidd
Directed by Dario Tangelson
November 1,2,7,8,9 at 7 p.m.
November 3 and 10 at 3 p.m.
A highly physical take on Lorca's last play, The House of Bernarda Alba depicts the life of an affluent family in 1930′s Spain. Forced by Bernarda, the tyrannical matriarch, into a eight-year mourning period after the death of her husband, the Alba sisters see all of their dreams and deepest desires smothered by their despotic mother's rule. Forced to never leave the house and cut off from the outside world the asphyxiating atmosphere drives the sisters against each other  in an inevitable path to tragedy.
Tjornhom-Nelson Theater, Foss Center