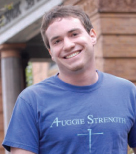 Jens Olsen '10 is an Auggie grad, a Fulbright scholar, and soon will be graduating from the U of M Medical School. Jens did URGO research with Dr. Jennifer Bankers-Fulbright in the biology department, was a member of the honors program, worked at the library, and volunteered at a variety of different places. He was awarded a Fulbright to teach English in Vietnam in 2010.
How did you decide to apply for a Fulbright? What interested you about the program?
I had a family member do a Fulbright and saw it's value. I've always been interested in travel, adventures, and trying new experiences, so being able to do this while doing something positive for those allowing me to see their part of the world was exactly what I wanted to be doing. I had also studied abroad in Vietnam and fallen in love with the nation and its people.
What are some of the most meaningful lessons you learned from your year as a Fulbrighter?
That there are beautiful people everywhere in the world, and that our differences truly are minuscule when compared to that which we share.
How did you change or grow from the experience?
I became a far more independent, confident, thoughtful person. Surviving living alone in a place where the closest known native English speaker was 4 hours away made me grow and mature, and thriving in that environment gave me the confidence to attempt bigger challenges; like becoming a physician.
The Fulbright program is designed to be an inter-cultural exchange. How did you get to know those in your community? How did you learn about your host country and its culture?
Immersion, immersion, immersion.
What are you doing now? What are your plans for the future?
I am graduating with an MD from the University of Minnesota's School of Medicine and will start my Residency in Emergency Medicine this summer.
What advice would you give to a current Augsburg student who is considering applying to Fulbright?
Go for it. Know that it is a challenging gig. Every Fulbright scholar I know says that they struggled. They had a blast, saw things they never thought they's see and grew in ways that they never thought they would, but they did struggle. Still I have yet to meet a Fulbright scholar who is not happy to that they went for it.
If you are interested in learning more about the Fulbright Program, URGO will be hosting two information lunches this week:
Thursday, March 26th @ 11:30 in Sverdrup 102
Friday, March 27th @ 12:30 in Lindell 301
If you are unable to attend either lunch, contact urgo@augsburg.edu or stop in at Science 152 for more information.