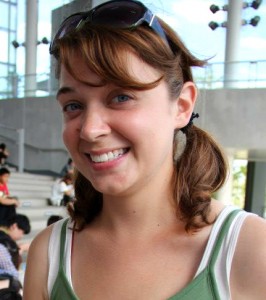 What year did you graduate? What were your majors/minors? – I graduated in 2009 with a YFM major and a Spanish major.
What are you doing now (for work)? – I'm currently teaching English at Luther Junior and Senior High School in Kumamoto, Japan with the ELCA J3 missionary program.
Why did you study Youth & Family Ministry? – I wanted to be a youth director in a church.  My youth directors had such a profound affect on me and my faith journey.  I want to be able to help young people find, explore, and deepen their faith and relationship with our Creator, just like my youth directors did for me.
Why did you choose Augsburg? – I really wanted to go to an ELCA school and Augsburg had the majors that I wanted.  It was also the place that felt right.  You know how sometimes when you know, you just know.
What was the most rewarding part of your Augsburg experience? – The relationships.  Augsburg is such an amazing community.
What was the most challenging part? – Parking.  Haha, but really… finding a parking spot was really difficult.  Other than that, maybe working with the enrollment office?  Overall, I can't really complain about anything.
Did you learn something that you didn't expect? What was it? – I learned who I wanted to be and how to become that person.  I also learned that YFM profs are pretty cool people.
How did your Augsburg education prepare you for youth ministry work? – The YFM program at Augsburg taught me about the various aspects of youth ministry through classes, but also gave me a glimpse of what youth ministry looks like in different settings and circumstances than those that I was familiar with. It gave me a foundation and then the tools to build up.
If a young person asked you about studying at Augsburg, what advice or guidance would you give them? – I would tell them to visit campus and talk to students and professors involved with their discipline of interest.  Every person has a different experience of college, even if they go to the same college and are in the same program.  That being said, there's no better college than Augsburg… but maybe I'm biased.