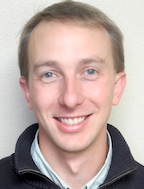 What year did you graduate? What were your majors/minors?
I graduated in 2001. Religion Major, Communications Minor
What are you doing now (for work)?
I serve as Pastor for Mission and Outreach at Zumbro Lutheran Church in Rochester, MN
Why did you study Youth & Family Ministry?
I chose to study Youth and Family ministry because I had faithful caring adults who invested in me as a youth. I wanted to be the same kind of influence in the lives of young people. As I studied, I came to see the church as a unique community called to support and grow not only healthy young people but healthy families, in all their forms, as well.
Why did you choose Augsburg?
I chose Augbsurg because of its strong Youth and Family program, the commitment to service in the community, and the integrated relationship between critical thinking and faith.
What was the most rewarding part of your Augsburg experience? What was the most challenging part? Did you learn something that you didn't expect? What was it?
By far, the most rewarding part of my Augsburg experience is the relationships with peers and faculty that remain today. My fellow classmates are now colleagues in ministry all over the country and we are able to continue to learn from each other how ministry is changing in our culture and ways we are able to connect families to faith in this ever evolving culture.
I was most challenged when my youthful assumptions of God, church and faith in general were challenged. It was an incredible learning experience and one that has best prepared me for the challenges of understanding where people are coming from in their own faith journeys.
I did not expect to learn that in order for the church to continue to be a relevant and vibrant part of society it would have to change dramatically. We read Loren Mead's Once and Future Church in a class taught by David Anderson that has affected the way that I see ministry still to this day. No longer could we assume that the biblical narrative was native to people, nor that people would continue to participate in the life of the church out of a sense of duty or obligation.
How did your Augsburg education prepare you for youth ministry work?
I believe that my Augsburg degree helped me articulate and carry out a vision for Youth and Family Ministry that excited people. It gave me a deeper theological well from which to draw. And it gave me practical tools to implement meaningful changes in the area of youth ministry.
If a young person asked you about studying at Augsburg, what advice or guidance would you give them?
Any chance I get, I encourage our high school students to check out Augsburg. I think it is unique in the ELCA schools in preparing young adults for the world they will enter after college. The student diversity, service-focused academics and inner-city environment provide a rich lab to learn from and grow and explore one's calling in their life.