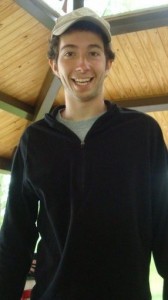 What year did you graduate? What were your majors/minors?
I graduated in May 2011 with a major in Youth and Family Ministry and a minor in Sociology.
What are you doing now (for work)?
I am currently the Director of Youth and Family ministry at Prairie Lutheran Church in Eden Prairie, MN. In my job, I have opportunities to teach confirmation, create and write Bible studies, and learn alongside the youth of the congregation.
Why did you study Youth & Family Ministry?
As I grew up in my home congregation I was extremely involved. I was involved as a student leader, I played bass guitar in the youth band, and I led a Bible study at school. As I went through high school I was pushed and nudged into these leadership opportunities in the church. One evening during my junior year or high school, my youth director came up to me and asked, "Justin, have you ever thought about going into youth ministry?" This question stumped me at the time, but it continued to resonate with me as I began to look for the college for me. Eventually, it was ignorable and it became clear that God was calling me to use my gifts and talents in Youth and Family Ministry.
Why did you choose Augsburg?
When I looked around at colleges I specifically wanted to check out the Youth and Family Ministry areas. I checked out Augsburg along with several other schools in the area but in the end, Augsburg felt like home the most. I could tell that there were people there who cared about my decision. In addition, Augsburg is an ELCA Lutheran school which is something I was looking for when I was looking at colleges. I wanted to make sure I went to a place where I could find some fellow Lutherans.
What was the most rewarding part of your Augsburg experience?
As I went through my college years I not only learned a lot, but I really found out my style of learning. In figuring this out, I could really maximize my classes and get the most out of them. The only way I could do this was because the professors were flexible to help out, adapt assignments, and listen to me so I could play to my learning strengths. As I reflect on my college years, I am amazed at how much I learned in those classes.
What was the most challenging part?
Balancing. As I went through my years at Augsburg I developed great friendships with fellow Auggies. One of the most challenging parts of my college years was finding the proper balance between a healthy social life, focusing on learning, and faith life. At times I was pulled toward one or the other in an overwhelming amount. I found that maintaining a proper balance between these is extremely important and also extremely difficult. Doing so takes extreme intentionality and discipline with your time management. Every now and then, I would hit that stride where these three were in great balance, but it takes a time to figure out how to do this.
Did you learn something that you didn't expect? What was it?
Yes! I never even heard of sociology before I went to college. I am extremely happy that I took my first class in sociology with Professor James Vela-McConnell, because it was his class that first introduced me to sociology. Though the sociology classes are difficult, I could not help but continue taking them. The sociology minor that I received was an unexpected gift.
How did your Augsburg education prepare you for youth ministry work?
I think my Augsburg education provided me with a great framework in which to work in youth ministry. Since I have graduated, I have realized that much of my education has been very applicable. Initially after graduation I was very hesitant about my ability to do full time ministry. I was hesitant about my skills, about my education, and about my knowledge. After being in some aspect of ministry for 3+ years now, I can say that my Augsburg education has prepared me very well for my work. Though, there are some things that you cannot learn within a classroom, so I find myself continuing to learn everyday while on the job.
If a young person asked you about studying at Augsburg, what advice or guidance would you give them?
They have asked me this question! I tell them all about my experience at Augsburg and how it positively affected my life. Then I always offer to help to get these students in touch with the admissions office or professors on campus. Augsburg is a place where I feel completely comfortable calling up a professor and saying, "Hey, there is a young person heading your way, can I get you two in contact with each other?" I think there are certain things that I cannot tell these young people that the professors and admissions staff can help out with a lot more. It's great to be able to have those connections with a great institution.