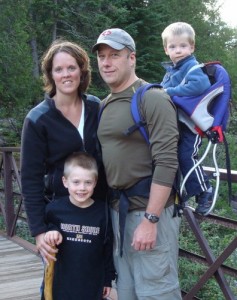 What year did you graduate? What were your majors/minors?
I graduated in May 2000 with Youth & Family Ministry (Major) and Computer Science (Minor).
What are you doing now (for work)?
I was at Trinity Lutheran Church in Long Lake for 12 years as the Director of Youth & Family Ministries (working with MS, HS and college age youth over the years – most recently I've just coordinated the Confirmation ministry).  I will be starting a new position in Children's Ministry at Zion Lutheran in Buffalo.
Why did you study Youth & Family Ministry?
It's in my bones… my calling.  I love Lutheran (Baptismal) theology and truly am blessed to have the opportunity to walk alongside youth and parents as they grow in their faith.  Point to the cross and step out of the way!
Why did you choose Augsburg?
I grew up in a small town (Wells, MN) and knew that I wanted to go to a bigger city for college.  I was ready to be challenged and to meet new/different people.  I valued the diversity and the opportunities the Cities presented (particularly in internships and service).  I knew Augsburg was right for me the first time I visited.
What was the most rewarding part of your Augsburg experience?
Too many to choose – the relationships (with professors and students)… I still keep in touch with many Augsburg staff; I had so many great mentors!  I also loved singing in the Augsburg Choir, being a tour guide and participating in Campus Ministry!
What was the most challenging part?
Juggling everything – there was so much that I enjoyed doing!  And my honors classes were pretty challenging too 🙂
How did your Augsburg education prepare you for youth ministry work?
I had so many great mentors at Augsburg that truly helped me to understand Youth AND Family Ministry.  They helped me to see how God was present in the ordinary elements of life.  I also really benefited from the hands-on experiences I has such as my internship, Peer Ministry class and my study abroad with David Anderson in Norway.
If a young person asked you about studying at Augsburg, what advice or guidance would you give them?
Follow your heart – this is the Holy Spirit leading you.  Take advantage of every opportunity you can – especially networking opportunities and times when you can learn from others that are doing what you want to be doing.