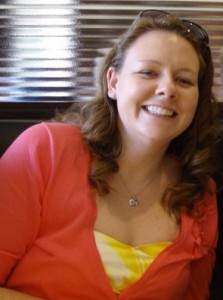 What year did you graduate? What were your majors/minors?
I graduate in 2001 with a Youth & Family Ministry major and Psychology minor.
What are you doing now (for work)?
I work at St. Peder's Evangelical Lutheran Church. I'm the Director of Outreach and Faith Formation. I have been on staff there for 5 years as of Aug. 2012.
Why did you study Youth & Family Ministry?
I had felt called in High School to work with young people in some way through the church. I was just going to minor in religion and major in political science, but when my passion of political science fell through, my passion for Youth Ministry was there. I took a J-Term Class with Lyle Griner – Peer Ministry, and realized that I was being called to work at a church.
Why did you choose Augsburg?
To be completely honest, it was the financial aid package that was the tipping point. I knew I wanted to go to a small college in the city, and I'm so glad I was able to have the financial aid help through Augsburg College.
What was the most rewarding part of your Augsburg experience?
The relationships that were built with the professors in the religion department, and other departments that always helped to keep us students on track and these relationships continue to help in my career each and everyday. I lean on these mentor/friendship relationships a great deal of time. Ministry can be tough and to have a support system surrounding an alumni is great.
What was the most challenging part?
Knowing that my degree is a specialized degree, and that this is what my degree is good for, ministry. It is something that I had to acknowledge and know that I could have just done an education degree, and do a religion minor – and become a teacher or a youth ministry. But I came to the understanding that I wanted to be a youth minister. So I went for the Youth and Ministry major.
Did you learn something that you didn't expect? What was it?
That ministry is just not about religion or passing on the faith. It is also about knowing where people are coming from, how to work with many different types of people/youth. I was pleased that we had psychology and sociology courses included in our degree.
How did your Augsburg education prepare you for youth ministry work?
At the time I was enrolled in the program it was one of few college degrees for Youth Ministry. The Augsburg Youth & Family Institute (AYFI) was top in country for training Youth Ministers. Being a part of the degree program and working at the AYFI gave me a leg up when it was time for me to start looking for a job. The networking that the AYFI helped me with was huge. Knowing that I was trained by the best, and went to a top Lutheran College helped me future employer see that I was ready to work in the church.
If a young person asked you about studying at Augsburg, what advice or guidance would you give them?
It is an amazing place, with many diverse opportunities. Take advantage of the opportunities, and keep your head focused on your degree. Build your relationships with the professors in your department, and keep those relationships after you graduate. Take diverse classes within your degree program and also within your electives. Have fun too! Augsburg is a great community and the relationships you build at Augsburg will stay with you long after you leave the college.