by Kate Verlautz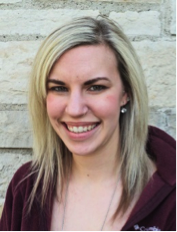 Kate graduated from Augsburg College's Youth and Family Ministry program in 2012. She has been serving as the Senior High Youth Director at Trinity Lutheran Church in Owatonna, MN since January of 2012.
---
When I first began my youth & family ministry career in 2012, I was determined to be overzealous, people pleasing, early and over prepared for everything I did. While these are mostly admirable qualities for a youth director; I quickly realized are not my true qualities.
I came home from work, drained, exhausted, and barely recognizable because I was trying to be a "Great Youth Director." Everything I was doing, who I was presenting myself as at work; a well put together young woman, who was confident and knew her role in the church, as someone who could be a positive influence on the lives of youth in her new congregation…it wasn't an authentic me. Now, there is nothing wrong with those ideals. But they are not even close to who I am at my core, who I am as a real follower of Christ or I've actually been called to be to the youth in my community. I acted contrary to who I was when I was with my students. Praise Jesus they saw through my act and were able to accept me even though I wasn't who they needed. To be blunt, I am not overzealous. I am generally making people more uncomfortable (in a good way) rather than pleasing them, and I am lazy.
Is that crazy?
No. My students want to see my flaws. They want to pray with me. They want me to be real with them, give them my honest opinion and be authentic to who I am as a person. They need "Who I am as a child of God" and who I am as a "youth ministry professional" to be one in the same. It took me until last January to realize what my students really needed was a youth director who was authentic and real. In ministry, like life, the imperfect areas easily consume us. But we find God's love for us through Christ has proved we are all equal in God's sight. I think it is safe to assume that Christ is at work in both the outstanding qualities of my ministry as well as in my borderline laziness and preference towards procrastination.
It is impossible to talk about the love and acceptance of Christ if we are unable to accept that being in youth ministry is messy. Pretending to be a strong, confident youth director is not what we have been called to d0. We have been called to be real and authentic. Trusting in Jesus' unwavering love.
If you want to be a "great youth minister", then be real. Be authentic.