by Jeanette Clark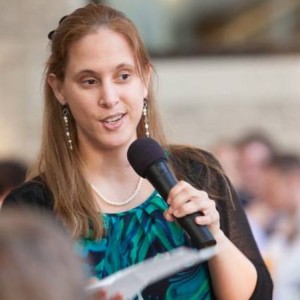 Jeanette Clark graduated Augsburg College in 2007 with majors in Youth and Family Ministry and Urban Studies and a Spanish minor.  After college, she participated in the Lutheran Volunteer Corp, working for La Conexion, a resource centers for Latinos, in Minneapolis.  She graduated from Lutheran Seminary in 2011, completing her internship in Chelan, Washington.  Currently, and works as a Mission Developer in the South Dakota Synod of the ELCA with Pueblo de Dios (which primarily serves Spanish speaking individuals and their second generation youth).
---
"Jesus is dead?" It was Palm Sunday when Jordy, a first grader, yelled this at me. As per Lutheran Church tradition, I was telling the Passion Narrative. My congregation, Pueblo de Dios, is a mission development in Sioux Falls, SD. We primarily minister with Spanish-speaking immigrants and their second-generation youth.
I quickly learned most of our youth had never heard about Jesus. Our first Christmas play, we literally taught the story while acting it out. Soon, the children learned baby Jesus is born on Christmas and we love baby Jesus. After Christmas, the children were confused how Jesus seemingly grows from a baby to being a thirty-year-old man in a couple of weeks. In Jordy's words, "Pastora, why does the baby Jesus now have a beard?" Never before had the time between Christmas and Lent seemed so short. Soon, we were trying to explain Holy Week to a group of kids who had just learned to love baby Jesus.
Therefore, the chaos of Palm Sunday should not have surprised me. I used Resurrection Eggs and a children's Bible to tell the story. As I began to explain Good Friday, a girl seemed about to cry. Jordy began yelling, "Jesus is dead?" It wasn't what most people experience on Palm Sunday. I was so flustered I decided to skip ahead and finish the story. We celebrated Easter and the Resurrection a week early that year. Jordy looked relieved.
Daily at Pueblo de Dios, I use my Youth and Family Ministry major. Over the past three years, our youth program grew tremendously from around ten youth involved in our Wednesday night program, LOGOS, to an anticipated fifty youth this fall. As you probably realize, this ministry is chaotic and difficult. Many of our families struggle with language barriers and poverty; this deeply shapes our ministry.
One thing I most powerfully learned the last few years is the importance of partner congregations. We are blessed by individuals from partner congregations who come to serve us, serve with us and be served by us. Without them, our work would be impossible. Active participation from partner congregations allows me to dive boldly into this ministry's holy chaos. I pray all those entering ministry will have their hearts and minds opened to the needs of people that our ELCA congregations normally leave out.
The three-year-old daughter of the pastor of our host congregation, Augustana Lutheran, looked at all these Latino kids who were coming to her church for the first time and said to her mom, "Wow! More friends!" Recently, Jordy looked at a Last Supper picture and said, "Is that a picture of Jesus and his family eating?" I said, "Well, it's a picture of Jesus and his friends eating." "Wow," he said, "Jesus sure has a lot of friends." Sometimes our youth know what we have forgotten.
Lord, open our hearts to the friends you have waiting all around us.