A Unique Blessing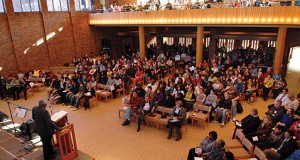 Augsburg College is truly UNIQUE in being one of the few liberal arts schools in America that offers chapel every day. During these 20 minutes you will find a great variety of speakers and music. We encourage you to honor the moments carved out for you in the schedule that you might experience spiritual growth.
Opportunities for Involvement
Leadership Opportunities: Youth Ministry Teams, Bible Studies, Retreats, Concerts, Support Groups, Discussion Groups, Athletic Tournaments (accyl.org), Fellowship of Christian Athletes, Service to the Community, Peace, Justice & Hunger Concerns, Worship Readers, Greeters, Musicians
Read more about Campus Ministry at Augsburg College.