These evocative projects will make the celebration of our Sesquicentennial a special year for students, faculty, staff, alumni, and friends of Augsburg. They will reflect Augsburg's mission, academic excellence, and community, showcasing scholarship, the arts, and other endeavors to highlight the University's history and accomplishments. More information will be shared as these projects evolve.
Art at Augsburg: Works by Faculty, Past and Present
Lead: Kristin Anderson
From January 13 through February 18, Gage Family Art Gallery and Christensen Center Gallery will display works by Augsburg art faculty, dating back to the origin of the department in the 1950s. The exhibit will include works by early faculty like Ivan Doseff and Hans Berg. We will also highlight art by longtime department stalwarts Phil Thompson and Norm Holen, along with featured art by our current art professors Robert Tom, Lyz Wendland, Chris Houltberg, and Dan Ibarra, among others. See more about the project here.
Auggie Political Engagement: A History
Lead: Andy Aoki
An interview with Martin Olav Sabo '59, whose rise to politics was supported by Augsburg University students, is expected to be available this fall at the Sabo Center for Democracy and Citizenship website. One year after graduating from Augsburg, Sabo—then 22—was elected to the Minnesota House of Representatives. During his tenure, he became the first member of the Democrat-Farmer-Labor party to serve as Speaker of the House and went on to the U.S. House of Representatives, retiring in 2007. Sabo died in 2016. This project was also featured in the Augsburg Now.
Cedar-Riverside Community Partnership
Lead: Nishesh Chalise, Elaine Eschenbacher, and Mary L. True
This group will compile a book of case studies to document the history of working with Cedar-Riverside neighbors, thinking about where Augsburg is now, and forecasting what the university and neighborhood will look like in the future. Augsburg University has long-standing partnerships with community-based organizations in the Cedar-Riverside Neighborhood. This project is an attempt to document how these partnerships were initiated, how they are sustained, and contemplate on their future. The goal is to develop a book with multiple case studies, each focusing on a particular partnership.
A CEDAR-RIVERSIDE WALKING TOUR:  FROM SNOOSE BOULEVARD TO LITTLE SOMALIA
Lead: Jacqueline deVries
From the Dakota to the Somalis, this neighborhood has played host to an extraordinary flow of migrants, immigrants, refugees, students, activists, and other newcomers.  This history of diversity is what makes the neighborhood a unique place to live, work, and learn.  This tour will introduce you to some of the people, places, and institutions that shaped the history of immigration, urban change, and diversity in Cedar-Riverside.  The
digital version available online here
.
See more about the project
here
Auggie Athletics Highlights
Lead: Kelly Anderson Diercks
This group will create 25 videos to highlight significant figures, programs, and milestones in Augsburg's athletic history. These videos will be featured on scoreboards, webcasts, and at alumni events in 2019.
Always on time: The Development of Social Work at Augsburg University
Lead: Christina Erickson
Social Work at Augsburg grew from the efforts and innovation of the Sociology department in a time of social upheaval and political strife. Starting small and in collaboration with another college, the social work department has grown into a thriving independent academic department with undergraduate and graduate programs serving hundreds of students per year. This social work timeline will help us "see" how the innovation of faculty decades ago has grown and flourished impacting our University and our community. It will even help us wonder, what might be next? The unveiling of the portable timeline will occur in the spring of 2020.
Murphy Square 1975-2015: An Anthology of Creative Writing by Augsburg Students
Lead: Doug Green
The best poetry and fiction by Augsburg students will be featured in Murphy Square 1975-2015: An Anthology of Creative Writing by Augsburg Students to be published next year in honor of the sesquicentennial. This volume will provide an overview of some of the best poetry and fiction from over 40 years of Murphy Square, the university's longest-running literary publication established in 1974. English professor Doug Green and 40 students from recent creative writing keystone classes will select and edit the anthology. The volume will be available both in print and online so that selections can be shared digitally at university events, celebrations, and reunions.
NORDIC MUSIC
Lead: Merilee Klemp
More than 500 Nordic scores have not been cataloged. This group will catalog these scores over the next 18 months and host a chamber music concert on Saturday, Sept 28 at 7 p.m.
Community Engagement and Vocation
Lead: Mark Lester
This group created a video documentary using self-interviews and interviews to show the contributions of the Center for Global Education and Experience to Augsburg's history and development. Watch CGEE's video here.
Narrative History of the Augsburg Nursing Department: Caring in the Margins
Lead: Dr. Joyce Miller, Dr. Katie Clark, and Dr. Kaija Freborg
This project will feature the rich history and longstanding contributions to the Department of Nursing at Augsburg University has in caring for our neighbors, especially those who are living in the margins in a two-part series. First, oral histories will be conducted with both retired and current faculty members as well as cultural guides capturing the creation and development of the program and its commitment to transcultural nursing. Oral histories will be also featured with faculty, students, volunteers, and community members who have been part of the work at the Augsburg Central Health Commons, a free-standing drop-in center organized by the nursing faculty where care has been provided to persons struggling with health and social equities including those experiencing homelessness in Minneapolis for over twenty-seven years. Second, a luncheon will be held on April 22, 2020, from 11 a.m. to 1 p.m. featuring the history of the department and the grand opening of the new Augsburg Central Health Commons space at Central Lutheran Church in a cafeteria-style meal. All are welcome.
Lead: Erik Steinmetz
This group will create an app that allows users to learn about Augsburg's history and location. Stand in the quad and see the history of Augsburg buildings in your iPhone or iPad via augmented reality. See the buildings projected in their locations on your screen as you move around. Hear the history and see archival photos of chosen buildings. Check out the Augmented Augsburg app.
McNair Scholars Success Stories Video
Lead: "Tina" Maria Cristina Tavera, Director TRIO McNair Scholars
The goal of the McNair Scholars Program is to increase graduate degree awards for students from underrepresented segments of society; first-generation college students with financial need, and/or members of a group underrepresented in graduate education. McNair participants have demonstrated strong academic potential and will prepare for graduate study through involvement in research and other scholarly activities. The McNair Scholars Program was created by the U.S. Congress in honor of Dr. Ronald E. McNair, the astronaut, and physicist who was among the first African Americans in the U.S. space program. The video will be shown at a release party on Wednesday, October 23, 2019, from 3-5 p.m. in Hagfors 150A.
All That We Carry: Original Music Theater Piece
Lead: Sonja Thompson
This devised Music-Theater piece tells the story of 150 years of Augsburg – a sacred, creative, shared journey. Over the years, common threads have connected and inspired us – the immigrant experience, faith and values, aspirations and learning – and made us who and what we are. Join us as we transcend the boundaries of time, space, language and culture, to create a magical, musical "sense of place" where we meet and recognize each other. Designed and created collaboratively, the piece is based on hundreds of stories and songs shared by alumni, current students staff and faculty, and features the work of alumni composer Aaron Gabriel '99, alumni theater artist Malick Ceesay '17, alumni visual artist Megan Johnson '19, members of the Augsburg Music-Theater Club, the Augsburg Choir and more, under the guidance of Asst. Prof. of Music, Sonja Thompson. Performances will be held on April 1 from 3 to 5:30 p.m. and April 4, 9, 10, and 11 from 7 to 9:30 p.m. Tickets can be purchased on Augsburg's theatre page.
Tienda (A Chamber Opera)
Music by: Reinaldo Moya
Libretto by: Caitlin Vincent
Between 1929 and 1936, nearly two million men and women of Mexican heritage were deported from the United States and repatriated to Mexico.  Prompted by the economic downturn of the Great Depression amid wide-spread anti-Mexican sentiment, national repatriation efforts took the form of harassment, brutal raids, government coercion, and abuse, in which anyone who looked Mexican could be targeted by immigration agents and relief workers.  In the end, approximately 60% of those sent "home" to Mexico were American citizens.
While Los Angeles and Detroit were focal points of the deportation frenzy, the small Mexican colonia in St. Paul, Minnesota did not escape the repatriation drives: on November 10, 1932, eighty-six people from sixteen families, or 15 percent of the local Mexican population, were put on a train to the Mexican border.
Set against the framework of these deportations, Tienda tells the story of Luis Garzón, a Mexican musician who immigrated to Minneapolis in 1886 and opened a small Mexican grocery store, or tienda,in St. Paul in the 1920s.  While Luis had married an American woman and was fully integrated into Minneapolitan society, his store served as a community hub for the newest arrivals from Mexico, many of whom had fled the Mexican Revolution and now toiled in the sugar beet farms of rural Minnesota.
Shifting between Luis's shop in the 1930s and his early years in America, Tienda explores the immigrant experience: what must be left behind—and what cannot be forgotten—on the journey to a new home.
Learn more about this piece from composer Reinaldo Moya and Augsburg Regent Diane Jacobson
Performances:
February 21 and 22, 2020 – 7 p.m.
Hoversten Chapel, Foss Center, Augsburg University
Ticket reservations available by December 1 on University Tickets
The West Bank and Augsburg in the 1960's and 70's
Lead: Mary Laurel True
Augsburg has engaged with the surrounding neighborhoods for 150 years since our founding. This session will feature alums who will talk about what was happening on the West Bank and at Augsburg during times of great change and counter-cultural movements that made Minneapolis what it is today. The West Bank was where it was all going down–great music, co-ops, housing struggles, draft resistance, hippies, and so much more! There will be great stories— and space to share some stories of your own from those memorable years.
Media Screens
Lead: Kristin Anderson
From September 27, 2019, to September 30, 2020, media screens around Augsburg's campus will rotate with more than 150 photos and facts about Augsburg's history.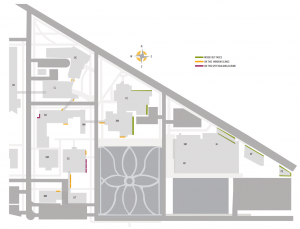 On the Spot and "Each, Together" A group action of the Inside Out project
Lead: Kristin Anderson
During the Sesquicentennial year from September 2019 to September 2020, you will be able to view installations of two different projects to celebrate our history.
Each, Together, a group action of the InsideOut Project includes over 1,200 portraits of Augsburg students, faculty, staff and alumni past and present. This installation covers ten campus building facades along Riverside from 25th Ave South to Hoversten Chapel.
On this Spot is a historical view of Augsburg through the years. This installation will cover a portion of the outside of Christensen Center and Sverdrup Hall, and various interior windows throughout campus.
Walking Tours
Lead: Kristin Anderson
Two different walking tours will be available throughout the year: "Augsburg Nooks and Crannies" and "Augsburg Campus: Past and Present." Each tour lasts about 60 minutes and is limited to 15-20 people.
The campus tour will start at the site of Augsburg's original Minneapolis building and move through our indoor and outdoor spaces to learn about the evolution of the campus from 1872 to the present.
The Nooks and Crannies tour will include a visit to the old chapel and gymnasium in Old Main, the Old Main attic, our Art Deco filling station, and other little-known spots of interest around the campus. We'll end at the Lindell Library to see the Archives Special Collections and storage rooms.
All tours will be held from noon to 1 p.m.
Tuesday, September 17: Augsburg Nooks and Crannies
Tuesday, October 1: Augsburg Campus: Past and Present
Wednesday, October 2: Augsburg Nooks and Crannies
Tuesday, October 8: Augsburg Nooks and Crannies
Wednesday, October 9: Augsburg Campus: Past and Present
Tuesday, October 29: Augsburg Campus: Past and Present
Wednesday, October 30: Augsburg Nooks and Crannies
Wednesday, April 8: Augsburg Campus: Past and Present
Wednesday, April 22: Augsburg Campus: Past and Present
Wednesday, April 29: Augsburg Nooks and Crannies
Tuesday, May 5: Augsburg Campus: Past and Present
Wednesday, May 6: Augsburg Nooks and Crannies
RSVP required, please register at eventrsvp@augsburg.edu or by calling 612-330-1104.