Students are encouraged to use the following resources to reinforce course content and improve course performance.
PROFESSOR OFFICE HOURS
Professors are available during posted office hours to support students. Check your course syllabus for your professor's office hours.
SUPPLEMENTAL INSTRUCTION AND DROP-IN TUTORING
Supplemental Instruction (SI)
These sessions are discussion based, student led, learning opportunity. It is typically aimed at our higher demand, sequential courses where ALL course students are encouraged to attend. SI sessions are held outside of the course and help to reinforce important course concepts.
Spring 2020 Supplemental Instruction Hours for Biology & Chemistry
Math and Computer Science Drop-In Tutoring
Questions regarding math or Computer Science tutoring – contact Professor Rich Flint.
MAT 105, MAT163 or 164, MAT103 or 106 or 114 or 145 or 146, All Computer Science classes
Writing
For writing assignments, visit the Writing Center.
Speeches
For presentations and speeches, contact the Speaking Lab.
All Other Subjects
If your class does not fall under one of the subjects above, you may use an online tutoring service, available to our students 24/7. To access a tutor, log into the class Moodle site and TutorMe will be listed under Augsburg Tools.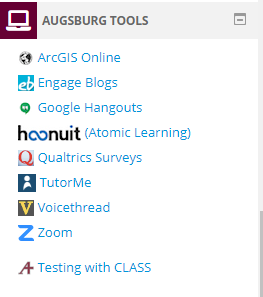 All students will have 3 hours/week available and sessions can last up to 60 minutes.