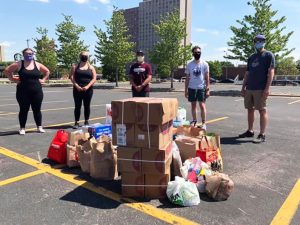 The weight of the COVID-19 pandemic, amplified by high unemployment rates and the closing of local stores during the unrest following the killing of George Floyd, has left our Cedar Riverside neighbors in need of support now more than ever.  As media coverage and attention to the situation has slowed, donations to aid sites in South Minneapolis have dropped significantly.  As a result, many of our neighbors are struggling to meet their basic needs.  Augsburg has a special relationship with the nearby Brian Coyle Center so we would like to continue our support by collecting household supplies and personal care items to supplement food shelf distributions.  The generosity shown by the Augsburg community in early June was amazing and we plan to express our care for our neighbors by again hosting another successful effort on August 4th.
In partnership with M Health Fairview, Pillsbury United Communities, and the Brian Coyle Center, we invite you to join us for a Supply Drive for the Cedar Riverside Community.
When:
Tuesday, August 4 from 6:00 pm to 8:00 pm.
Where:
Parking Lot L at the intersection of Riverside Avenue and 25th Ave S which is immediately east of the Edor Nelson Field and Dome; Augsburg University, 2211 Riverside Avenue, Minneapolis, MN 55454.
Note – if you are not able to drop items at Augsburg on August 4th, M Health Fairview is collecting donations from August 3-14, 9:00 AM – 3:00 PM, at two locations: Smiley's Clinic (2020 E. 28th Street, Minneapolis, MN 55407) and their Midway Campus (1700 University Ave. W., St. Paul, MN 55104).
Donate:
We are collecting new, unopened household supplies and personal care items.  We encourage you to purchase items from locally owned businesses, if possible.  Donations will be transported to the Brian Coyle Center, one of the Pillsbury United Communities sites, for distribution.
These are the most needed supplies:
Diapers
Baby wipes
Paper towels
Trash bags
Toilet paper
Laundry soap
Dish Soap
Bar soap
Deodorant
Razors
Household cleaning supplies
Facemasks (homemade face coverings welcome)
Bottled water
Hand sanitizer
Tote bags and paper bags with handles
We reserve the right to decline donated items if they are not needed or if we are unable to distribute them. We will not be accepting donations of clothing, furniture, or food.
Thank you for considering a donation of items or an online donation to Pillsbury United Communities to help our neighbors in need get through this most challenging time. Augsburg's Campus Kitchen program continues to deliver meals to the Brian Coyle Community Center, People's Center, West Bank CDC, and the Ebenezer Tower Apartments. If you would like to support this critical meal deliver service please make an online donation here.