What are they doing now?
For forty years, students have been earning degrees in art and art history at Augsburg University. We graduate 25-30 majors annually with B.A. degrees in art history, studio art, art education; and certificates in studio art and digital design. Browse these alumni profiles and see what's happening here in the center of the city.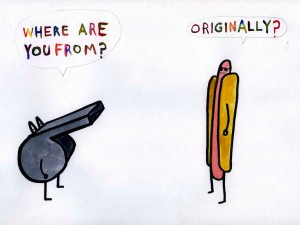 Graham Petersburg
Degree: Studio Art, 2010
While in his life drawing class, Graham said that he "stumbled on a glorious form: the whistle." As he explored the whistle further, it began to take on more and more of a persona, and so he saw fit to give it a partner: hot dog. This kicked off the series "Hot Dog & Whistle," a single-frame comic of sorts that features a hot dog and a whistle talking candidly about the prying questions of life. Hot Dog & Whistle is featured weekly on the website MPLS.TV.Graham Petersburg didn't initially come to Augsburg for the art program; he came for the wrestling. But after spending a year in the wrestling program, he decided to switch gears and focus on the arts. He began to work side-by-side with drawing and painting professor Tara Sweeney and was introduced to watercolor. Graham instantly fell in love with this new medium and began to explore it deeply.
Aside from his famed Hot Dog & Whistle series, Graham also works in the abstract, using watercolor, ink, and oil pastels on arches paper. His work uses brilliant colors and focuses heavily on line and shape. He has been featured in solo and group exhibitions in New York, Los Angeles, and Minneapolis, as well as in Flaunt Magazine.
In the future, Graham is looking to collaborate with animator Eric King on a series of animated shorts similar to Hot Dog & Whistle that explore conversational oddities and what happens when things are said out of context. Graham is also working with TPT about the possibility of having work featured there.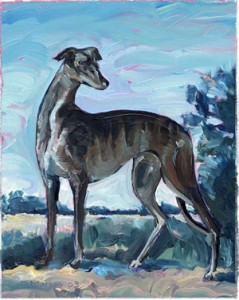 David Mataya
Degree: Studio Art, 2003
Employment: Associate creative director and manager of creative Services, Anderson Windows, Inc., Bayport MN
David chose Augsburg for a studio art degree because of the weekend college format. It allowed him to complete his degree while balancing full-time job and family commitments. "If I'd found a weekend program at COVA or MCAD I might have pursued it, but I'd have lost the broadening aspect of the liberal arts curriculum."
He was encouraged to apply his creativity across disciplines.
Case in point: his essay "The Last Ice Age" from English 111 published in Minnesota Monthly, September, 2000. On a more practical level, David discovered his artistic vocation when his sculpture blew up in the kiln. "I decided to be a painter."
Augsburg's faculty inspired him with the level of idealism that raised respective topics to a higher plane. "Some professors were universally popular, others more controversial. You need both. The faculty was very supportive. Many of them came out to see my senior show."
Today, David is a creative director with a full–time career at Andersen Windows, Inc. His creative interests include painting, drawing, music, and writing. His dream: painting for a living.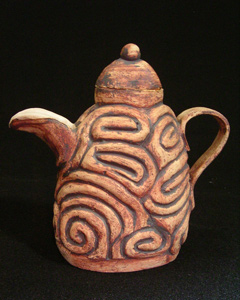 Madeline Pederson
Degree: Studio Art, Art History, 2005
Employment:  Weisman Art Museum, Minneapolis, MN
Madeline Pederson didn't really plan on majoring in art at all. "When I first came to Augsburg, I took a couple of art classes just to check it out." At the end of her freshman year she realized it was what she loved and decided to major in studio arts. Spring of her junior year she studied abroad in Florence and fell in love with the art of the Italian Renaissance. "I realized that art history was another one of my strong interests."
She graduated spring 2005 with a double major in studio art and art history.
Madeline appreciates the individualized attention she received from art faculty. "They are passionate about what they do. It's contagious." Retired Professor Norm Holen gave her the confidence to go on in studio arts; Professor Kristin Anderson, recipient of this year's Distinguished Contribution to Teaching and Learning award, inspired her. "I hope to be an art history professor and she's a great role model."
Currently Madeline is completing an internship with the University of Minnesota's Weisman Art Museum. She plans to continue drawing and painting for fun, but in the fall she'll attend University at Buffalo (SUNY) to begin a master's program and focus her considerable talents in art history.