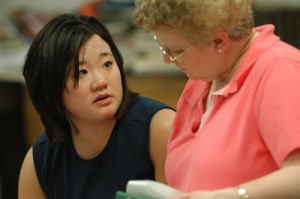 Augsburg is definitely a transfer-friendly college. Whether you are transferring recently earned credits or returning to college after years away, we will work with you to simplify the process.
Nursing students receive up to 34 semester credits for nursing classes completed in an RN nursing program. In addition, Augsburg accepts in transfer, a maximum of 96 semester credits from community colleges.
Augsburg accepts transfer credit from other institutions accredited by the Higher Learning Commission that offer courses leading to an Associate of Arts or Bachelor of Arts degree.
Students must earn a grade of "C-" or better in order for a course to be accepted in transfer at Augsburg.
We provide a free one-on-one credit evaluation of your nursing degree and other college course work. When you meet with an admissions counselor, bring a copy of your transcripts to receive an unofficial evaluation.
Our transfer guides will also help you find liberal arts courses (general education), like Algebra or English, that will be accepted at Augsburg. Students completing the B.S. in Nursing may waive two Liberal Arts Foundation course requirements (in two different areas), or waive the two-course Modern Language requirement.
We also accept credit by exam, or CLEP (College Level Examination Program) credit. This allows you to earn credit for previous work or for experience that may not be reflected on your transcript.