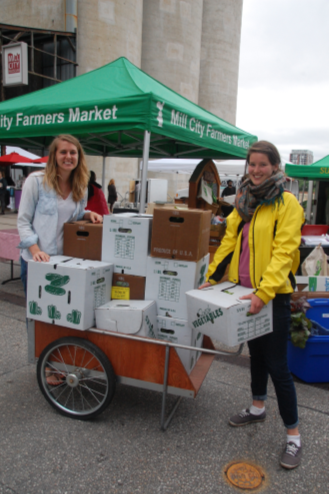 Since a 2013 pilot project that collected 27,900lbs of produce from local farmer's markets, Campus Kitchen has scaled back its gleaning efforts to focus on a partnership with the Mill City Farmer's Market. Through its "Greens For Good" program, Augsburg students collect an average of 250lbs of donated produce from farmers each week and distribute it to elders at The Cedars senior apartment complex with support from the Cedar-Riverside Health Commons. Students and Health Commons ambassadors help elders, often East African and Asian immigrants, identify and think of ways to use fresh produce.
Any leftovers are then processed and used in Campus Kitchen's weekly community meals or given away to students in the Campus Cupboard. Any extra produce after that is given to the Brian Coyle Center food shelf or Soup For You Cafe.
To get involved with gleaning, email Natalie at jacobsn@augsburg.edu.