Ole Schenk's heart takes great joy with joining the Campus Ministry team for a year as a pastoral intern.
Remembering ancient words of how Wisdom cries out from the crossroads "where she takes her stand" (Prov 9:1), Ole seeks to learn from the wisdom manifest at the many intersections at Augsburg University and at Cedar-Riverside: a meeting point of different faiths, diverse cultures, and the truths of many social locations and identities.
From the Canadian provinces of Alberta and Saskatchewan, Ole knows prairie skies, fields, and winters. Faith began and grew for him at first in rural churches. With a mind shaped through studies in poetry and philosophy, Ole has a love for literature and the sacred texts of the Bible.  There is no greater joy for Ole than in experiencing the Spirit at work through proclaiming the good news of Jesus Christ.
Through work as an ESL teacher and mission volunteer, Ole has served in Global Mission of the ELCA in Hungary and Slovakia where he has been challenged and humbled through cross-cultural encounters.  Ole comes to Augsburg with two years of studies and service learning in the Public Church curriculum at the Lutheran School of Theology at Chicago.
Education:
B.A., M.A. (English literature) University of Saskatchewan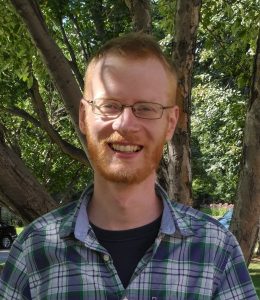 M.Div. candidate, Lutherans School of Theology at Chicago (class of 2020)