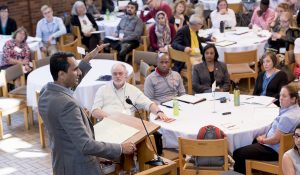 July 16-18, 2018
Augsburg University
Minneapolis, MN
Each year, members of Lutheran colleges gather to explore the distinctive roles we play in higher education.
As the 2018 theme is Civil Discourse in a Fragmented and Multi-Religious Society, the conference will explore:
a) civility in politically fragmented society;
b) case studies on difficult conversations
c) challenges on campus; and
d) civil discourse in multi-religious society.
The conference is open to all from ELCA colleges and universities, but persons should attend who have a particular interest or campus responsibility in the vocation of Lutheran higher education to help students and others speak across difference and address political, cultural and intra- and inter-religious understanding. Each college or university is urged to send a campus delegation, composed of a mix of administrators and faculty.
View the 2018 Conference Agenda Draft
REGISTRATION
The registration deadline has passed.
ELCA colleges and universities have typically been invited to send delegations of up to five persons at a subsidized rate of $150 per person. More information about registration was sent to school representatives through the ELCA. Contact Melinda Valverde at melinda.valverde@elca.org for more information if your college or university has questions.
Questions may be also be directed to 612-330-1403 or voalc@augsburg.edu.
The Vocation of a Lutheran College conference is supported by the Network of ELCA Colleges and Universities.