Explore Vocation while Working at a faith-Based, Community-oriented nonprofit Organization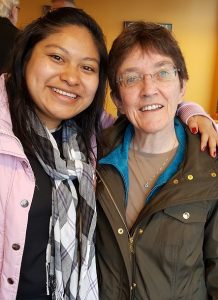 Current Augsburg Students:
Are you curious about how you are called to serve your neighbors in a work setting?
Wondering about how your talents, skills, preferences, and passions can inform your career decision making?
Looking for a paid work/internship experience for spring semester 2019?
If yes to all of these, we invite you to apply to be a Christensen Vocation Intern.
KEY ELEMENTS OF THE CHRISTENSEN VOCATION INTERNSHIP PROGRAM INCLUDE:
Paid Internship at a faith-based nonprofit based in a dynamic neighborhood of Minneapolis
Gain relevant work experience and mentoring
Reflect on experiences and assessments with a cohort of your peers
Duration: 8-10 hours/week, PAID internship for up to 100 hours during Spring 2019 semester.
Current students from all majors and faith backgrounds are welcome to apply
Note: Each site's job description can be somewhat customized to the intern's education and goals.
View a summary of the four different sites for these internships.
APPLY TO BE A CHRISTENSEN VOCATION INTERN THROUGH HANDSHAKE
Handshake is Augsburg's student employment platform. Each of the four internship sites are listed by "Christensen Vocation Intern" plus the site name.
Questions about the application platform? Ask the Strommen Center for Meaningful Work, careers@augsburg.edu
Questions about the application process or positions? Ask the Christensen Center for Vocation, ccv@augsburg.edu or 612-330-1403
NOTE: Priority application deadline is December 7. Then applications will be accepted on rolling basis as the positions are still available.
The Christensen Interns will be selected based on strong interest in exploring vocation, call, and career interests in faith-based or service organizations, as well as potential match with each internship site's needs.