Apply to be in one of Augsburg's three Public Leadership Scholar Programs:
Christensen Scholars – student leaders who are interested in engaging in an academic and theological exploration of vocation. The seminar is designed for those with a lively sense of curiosity and a desire to talk about the "big questions" involving God, evil, doubt, salvation, and vocation.
Interfaith Scholars –  student leaders who are interested in exploring the religious diversity of the Augsburg student body, the wider Twin Cities community, and the United States through interreligious dialogue and action. We invite religious believers from a variety of traditions as well as the non-religious to apply in order to converse respectfully with other about what you believe, why it matters, and how it propels us to action in the world.
Sabo Scholars – student leaders who have interest in engaging in civic life, studying the political process, working on public policy, and exploring careers in public service.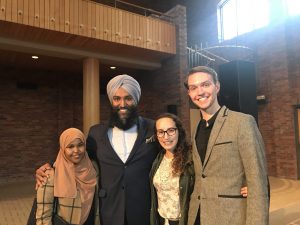 In these programs you will:
Participate in a yearlong academic seminar on Thursday nights with a cohort of your peers

Contribute to public leadership on campus and in the wider community in either the Christian tradition, interfaith engagement, or civic life.

Earn 4 upper division semester credits

in the Religion or Political Science

Receive a $2,000 scholarship

.
Who is Eligible?
Current sophomores and juniors who plan to study on campus all of the 2019-20 academic year.
How to apply
Submit the public leadership school application, indicating the program(s) for which you wish to be considered.    Public Leadership Scholars Application
Request a letter of recommendation from a faculty or staff member who knows you well    Faculty or Staff Recommendation
What is the Deadline?
The application deadline is Monday, March 4th.
Questions?
Contact either