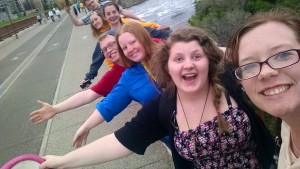 Young people long to engage their faith with their entire hearts and minds in concentrated, intentional and communal ways. AYTI makes this happen by gathering students who have completed 9th-12th grade for a week of engaging theological questions. We invite you to join us in this endeavor!
AYTI is an intense week of friendship, classroom learning, worship, solitude, contemplation, discernment, and action on Augsburg's urban campus. We will learn together, pray together, play together, explore the city together, and discern God's work in our world together.
As a program of the Christensen Center for Vocation, AYTI seeks to engage young people in contemplating the theological themes of Bernard M. Christensen's legacy.
Christian faith liberates minds and lives
Diversity strengthens vital communities
Inter-faith friendships enrich learning
The love of Christ draws us to God
We are called to service in the world
Augsburg Youth Theology Institute website