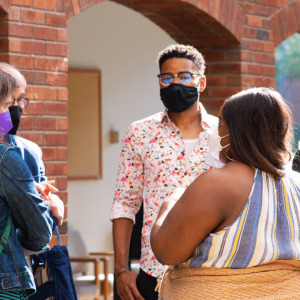 Since its inception, CCV has played an integral role in stewarding the university's commitment to, and exploration of vocation. It has woven a theological understanding of vocation throughout the fabric of Augsburg through its work with students, faculty, and staff.
In November 2001 the Lilly Endowment, Inc. awarded Augsburg University a $2 million grant to expand the University's commitment to connecting faith and learning. As a result, Augsburg developed and implemented Exploring Our Gifts. After four years of successful programming, the Lilly Endowment awarded Augsburg a generous sustainability grant, matched by the University, to help support the project for an additional three years.
Exploring Our Gifts focused on helping students, faculty, and staff discern their vocations in relationship to God and the world. The impact has been truly transformative, with hundreds of students, faculty, and staff benefiting from a wide range of new programs, individual and community experiences, and academic opportunities.
Augsburg University, being committed to continuing this important work beyond the life of its initial Lilly grant, created the Christensen Center for Vocation (CCV) to embody and build upon the convictions at the heart of Augsburg's educational mission:
…called to educate students to be informed citizens, thoughtful stewards, critical thinkers and responsible leaders…in the neighborhood and in the world. 
Thanks to continued institutional support and additional grants from the Lilly Endowment, Inc, the Kern Foundation and donor support, CCV has been emboldened to innovate creative initiatives in recent years that engage students, faculty, staff and faith communities in vocational discernment work in the public square for the common good. Augsburg Youth Theology Institute, the Riverside Innovation Hub and Public Church Scholars are programs that have all been launched through grants, giving the center a spring board for imagination around our call to be neighbor. Simultaneously, these initiatives have offered room to experiment with how best to foster effective, mutually beneficial learning among the Augsburg community and faith communities.
On June 1, 2019 the leadership of Augsburg University's Christensen Center for Vocation was passed along to Jeremy Myers (Executive Director) and Kristina Frugé (Managing Director) with a charge from President Pribbenow to create a new kind of church relations for the 21st century. With this transition, the work of the Riverside Innovation Hub has become a cornerstone for the work of CCV. It has fostered contexts engaged in vocational discernment that also become learning environments for the Augsburg community to engage in.
The new vision moves the university towards its mission and the larger mission of Lutheran higher education – both rooted in our institution's Lutheran identity and open to our public call to be neighbor, faithfully. We move into this new vision with humility and boldness, knowing that our institutional past and Christian heritage give us both deep inspiration and hurtful baggage. The history that has shaped our institutions, churches and communities is intertwined with both wisdom and harm. We inherit systems that have functioned to benefit some at the expense of others. This is not what being neighbor looks like. And so, with a posture of bold humility, we move into the new vision of CCV, grateful to individuals who have pursued better ways to be neighbor in our past and to those that challenge us on how to do that work better today, towards a more just, life-giving future for all neighbors. 
Who was Bernhard M. Christensen?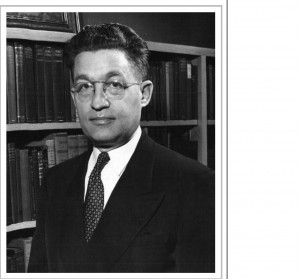 Bernhard M. Christensen (1901-84) was the eighth president of Augsburg University, serving from 1938 to 1962.  He was born in Wisconsin, the son of Danish immigrant parents.  He graduated from Augsburg University in 1922 and Augsburg Seminary in 1925.  Following his seminary work (though he was never ordained), Christensen did further study at Princeton Seminary, the University of Berlin and the University of Goettingen in Germany.  In 1935 he married Gracia Gunderson of Brooklyn, New York.  They had five children and she would eventually teach English at Augsburg.
Christensen was a gifted leader who led Augsburg through a time of significant change.  He was also a theologian who sought to avoid both a reactive fundamentalism and a theological liberalism that was cut loose from the tradition.  Christensen was ecumenical in outlook while being deeply rooted in his own heritage.  Above all, he hoped "…the church of Luther—glorying in 'the freedom of the Christian man' and made strong through faith in a living Christ—may yet speak the deciding word."[1]
The Christensen Center for Vocation has found guidance in discerning its work through the five lessons attributed to Bernhard H. Christensen.
Christian faith liberates minds and lives
Diversity strengthens vital communities
Inter-faith friendships enrich learning
The love of Christ draws us to God
We are called to service in the world