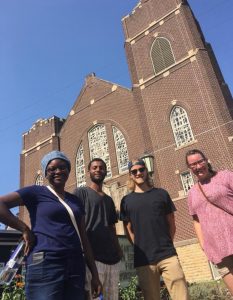 The CCV staff faithfully stewards all initiatives toward the following values. These values showing up within every initiative is how we best serve our students, faculty, staff, and partner faith communities and how we support Augsburg University live into its mission as an institution. 
Transformative engagement between faith communities and Augsburg University
Our work builds networks of mutual learning & transformation. All initiatives of CCV steward the movement of resources back and forth between faith communities and Augsburg University. These resources include students, staff, faculty, ministry leaders, potential students, dollars, questions, ideas, etc.
Vocational discernment
All initiatives of CCV are designed around the central question, how are we being freed and called to be neighbor for the neighbor's sake? CCV reaches across the Augsburg University community to tap into those best equipped to address this question in the unique contexts of faith community partners. CCV's work helps students, faculty, staff, and ministry leaders discern vocation in real time and in real places.
Critical theological reflection
All initiatives of CCV are informed by a Lutheran understanding of vocation in lively, generous, and compelling ways, opening paths of inquiry that are timely, contextual, and necessary. CCV's work invites thinking and acting theologically, unhindered by the complexities encountered in the world.
Public engagement
All initiatives of CCV are committed to accompanying individuals and faith communities as they work in the public square. Vocational discernment is not done in isolation from the neighbor. The first movement is always into the public square where diverse perspectives are sought, engaged, and lifted up. CCV's work orients others to value the public square both as a place of learning and as a space for proclamation in word and deed.
Mutual and collaborative learning
CCV's initiatives create opportunities for the Augsburg University community and its external partners to both be teachers and learners. There will be moments when Augsburg faculty or staff are the experts in the room, but there will be moments when our students, neighbors, or ministry leaders are the experts in the room. CCV offers a new model of church relations built upon trusted learning partnerships, not brief transactions. Its work will forge new forms of mutuality between faith communities, the neighborhoods they are a part of, and Augsburg University and its students.
Dismantling white supremacy
Place-based vocational discernment in the public square for the common good does not happen without confronting the realities of racism and white supremacy. These realities are an original sin of our country and the American church. All initiatives of CCV facilitate the confrontation of white supremacy – how it shapes our churches, institutions, and the lived experiences of people of color and white people. This expectation of our work is not done at the expense of commitments to confronting other forms of oppression. However, because the historical formation of our church in this country grew out of slavery, genocide and white supremacy ideologies, there are blind spots hardwired into our practices, policies, and frameworks that we must constantly re-examine. As a confessional body, we cannot move forward faithfully without honest awareness and commitment to the work of dismantling the harmful impacts of these sins.
---