Information:
Augsburg Helpline 612-474-3100   helpline@augsburg.edu  (Hours:  March 30 – April 3 12pm to 6pm, Sunday April 5 noon-4pm)
COVID-19 hotline   651-201-3920 (daily 7am-7pm)  Minnesota Department of Public Health hotline for questions the general public has about COVID-19
Minnesota Department of Health COVID-19 Information
How to Protect Yourself  Center for Disease Control and Prevention
People's Center Cornonavirus Page  Information in Somali, Spanish, and Hmong
"Remember that knowledge is power and don't accept everything that you hear or read. Go to trusted sites such as the CDC or the Minnesota Department of Health." NAMI Minnesota
Coronavirus Information from Local Health Care Systems
Allina  Free online COVID-19 screening.
Health Care:
Note:  Special Enrollment Period for uninsured Minnesotans due to COVID-19: March 23 – April 21, 2020  Call 651-645-0215 for free assistance from MNsure-certified Navigators.  DACA students can apply for Minnesota Care (DACA students have to fill out a paper application and fax it in.  This can take about a month to process.   Google the application as paper application as "DHS 6696 form".)
If You are Sick or Caring for Someone  — CDC
People's Center:   For Augsburg students who do NOT have insurance, if you have symptoms that you think may be the coronavirus (such as a cough, fever, or shortness of breath), you can contact the People's Center at 612-332-4973 to discuss next steps.  If you are recommended to see a physician at the People's Center, you can see a physician for a $5 co-pay under the Augsburg contract for uninsured students (tell the scheduling person that you are an Augsburg student and would like to be seen under the Augsburg contract).  Please note that some labwork is covered under the Augsburg contract, and some is not (ask your physician about this). From People's Center website:
We have expanded our clinic hours and have added drive through appointments and phone appointments to support our patients who are experiencing respiratory symptoms.

People's Center will remain open for patients who need to be seen for other medical reasons.  The clinic will separate patients from those who are experiencing upper respiratory systems.
Further resources for the uninsured:
you can contact Health Access MN for support in applying for state and federal health insurance programs (if you qualify for Medical Assistance, you can receive emergency care and the MA will typically backdate to cover the recent care received).
If you are uninsured or don't have a health care provider, you may also contact a fully qualified Community Health Center.
Mental Health and Coping Support:
"While we are supposed to socially isolate ourselves to prevent the COVID-19 from spreading, we don't need to emotionally isolate ourselves. Check in with people you care about or neighbors who don't have close family or friends by calling, emailing or connecting on social media. Keep a routine, eat healthy and take a walk. Download the apps that help with anxiety such as Calm or Headspace <or Sanvello>."  NAMI Minnesota
Sanvello app — free premium access to this highly-rated mental health app that includes cognitive behavioral therapy and mindfulness.  "During this challenging time, Sanvello is a place you can go to feel better and meaningfully connect with others—anywhere, anytime."
Online Mental Health Screening
Mental Health Support and COVID-19  NAMI Minnesota   "If you are worried about access to prescribed medications, you can ask your health care provider about getting 90-day supplies vs. a 60 or 30-day supply. If this is not possible, we encourage you to refill your medications as soon as they are allowed."
Taking Care of Your Mental Health in the Face of Uncertainty
Mental Health and Coping During COVID-19     From the Centers for Disease Control and Prevention
Managing the Stress of Living at Home for College   Active Minds
Managing Stress and the Threat of COVID-19  Minnesota Department of Health
7 Science-Based Strategies to Cope With Coronavirus Anxiety
Feeling Anxious about Coronavirus?  A Psychologist Offers Tips to Stay Clear-Headed
That Discomfort You're Feeling is Grief
Don't Feel Like "Getting Things Done:? It's Okay Not to Be Productive During a Pandemic
Finding Calm and Nourishing Resilience Free Masterclass  Calm.com
Calm in the Time of Resilience   Free Facebook weekly class from Partners in Resilience
Health Journeys Free Daily Meditations
Pandemic Care Resources for Mindfulness and Self-Compassion  Tara Brach
Campus Ministry Daily Prayer blog
Reasons to Be Cheerful    "part magazine, part therapy session, part blueprint for a better world"
COVID-19 Resources for Adults   (many resources including financial help, things to watch/do)
Counseling and Urgent Phone Support:
Starting Tuesday, March 24th, Augsburg's Center for Wellness & Counseling will be offering 30 minute Wellness Consultations by phone to Augsburg students (please call 612-330-1707 to schedule a phone appointment).  In addition, our Urgent After Hours Phone Counseling service will now be live 24/7, so if you can't reach a CWC counselor right away, you can immediately access a trained mental health counselor through this service by calling 612-330-1707 and choosing Option 1.  Further counseling resources are available in the community, including Walk In Counseling Center (a free, anonymous community counseling center now offering phone counseling).
Using your insurance to find a therapist off campus:
Contact your customer service for listings of therapists in your network.  Many are now offering teletherapy, and many plans are providing coverage for this teletherapy (call your customer service to find out if your plan is now covering this).  To find a therapist off campus, try Psychology Today's Find a Therapist tool.
Additional Phone Support for Mental Health:
–Warm line at 651-288-0400 or text "Support" to 85511
–Use the Crisis Text Line by texting MN to 741741 (to access a culturally trained counselor on this line, text STEVE to 741741)
–Call the crisis team at **CRISIS or contact the crisis team for each Minnesota county
–For support with disordered eating, the NEDA Helpline is available via phone at (800) 931-2237 Monday-Thursday from 11AM to 9PM ET, and Friday from 11AM to 5PM ET and via chat Monday-Thursday from 9AM to 9PM ET and Friday 9AM to 5PM ET.
Abuse or Violence at Home:
From Governor Walz:  "Stay at Home should never mean you stay somewhere unsafe.  There are places of sanctuary open for anyone facing abuse or violence.  Please call Minnesota's statewide crisis hotline <24/7> at 1-866-223-1111 or text 612-399-9995."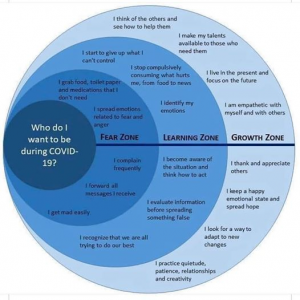 'FACE COVID'
How to respond effectively to the Corona crisis by Dr Russ Harris
'FACE COVID' is a set of practical steps for responding effectively to the Corona crisis, using the principles of acceptance and commitment therapy (ACT).
F = Focus on what's in your control
A = Acknowledge your thoughts & feelings
C = Come back into your body
E = Engage in what you're doing
C = Committed action
O = Opening up
V = Values
I = Identify resources
D = Disinfect & distance