For new and experienced AP teachers
Course Description:
This institute is designed for both new and experienced teachers and will focus on teaching critical thinking, which forms the most critical component of any AP history course. During the week, we will work on both the conceptual underpinnings of this course and actual lesson plans that can be adapted for your classrooms. The institute will address the content, with the changes made last Spring, needed to guide students to uncover factual knowledge, while also integrating the skills necessary for the students to be successful. An insider's view of how the essays for AP history are scored will be shared. We will strive to create a casual and collegial environment.  Resources, lesson plans and best practices will be shared, as well as, time to collaborate to create new plans before the end of the week.
Key Takeaways:
Be able to answer "What is AP World History?"
Recognize the value of the College Board's Equity and Access policy
Find and understand that the Historical Developments in the Curriculum Framework drive the content and the historical reasoning skills of AP World History
Constantly return to the thematic learning objectives in order to understand how the course content should be applied and train your students to do the same.
Know the value of formative assessments and the new College Board resources that will help track and identify student weaknesses in skill and content.
Use and develop a comfort level with the MY AP Classroom platform and all it offers.
Be aware that the new College Board resources for summative assessments include every test question ever released and is searchable with filter options also will help track and identify student weaknesses in skill and content.
Implement strategies that enable their students to successfully perform on:

Multiple Choice Exams/Quizzes
SAQs
LEQs }all tied to new frameworks
DBQs

Share "best practices" in terms of lessons, projects and use of technology
REGISTER NOW FOR THE JUNE WORLD HISTORY WORKSHOP
---
Consultant: kara Macsuga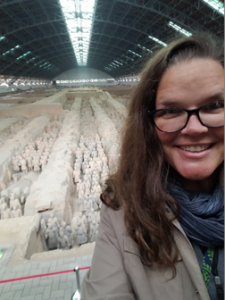 Kara Macsuga has taught for 23 years, and for the past 13 years has held National Board Certification. Her degree was earned from Florida Atlantic University in Political Science in 1994. In addition to AP World History, Mrs. Macsuga has taught AP European History at Suncoast High School in Riviera Beach, FL. She has scored AP World History examinations since 2007 and serves as a Table Leader at the Reading. Mrs. Macsuga also instructs College Board institutes and workshops as a consultant for AP World History. She lives in Palm Beach Gardens, Florida with her husband, mother and the youngest of her three children.