For new and experienced AP teachers
course description:
Expect our workshop to be very active and engaging, with both full class discussions as well as breakouts.  By joining our APSI, you will also gain access to our Google Drive folder, with over 50 gigs of content I have produced to share with you. Our workshop is designed for everyone from teachers just getting started with the course, through seasoned veterans.  You can expect to leave our workshop with inspiration, enthusiasm, resources, and passion no matter what level of experience you have upon your arrival.
Using the Course and Exam Description provided, we will delve into the course curriculum including the Big Ideas, Skills, and the designated 10 Content Areas.  Here we will also discuss course planning and pacing as well as look into deadlines and examples of items needed for our course audit.
We will spend time looking at the various resources on AP Classroom, including test banks and teacher reports. In recent years, the format of the exam and specifically the essay questions have been regimented: we will spend time looking at what questions 1-6 are made of, and ways to help both teachers and students prepare for success on the exam in their written responses.
Throughout the class we will be reviewing and learning about works of art from the image set that range well-known pieces like the Sistine Chapel ceiling, through works that may be unfamiliar to participants such as the Court of Gayumars or Lintel 25 from Yaxchilan in order to incorporate teaching strategies and knowledge of content that will be helpful for new teachers as well as those with experience.  We will even take virtual field trips to museums to showcase additional teaching/learning strategies that can be incorporated into our teaching.   .
REGISTER NOW FOR THE JUNE ART HISTORY WORKSHOP
---
consultant: erin reiner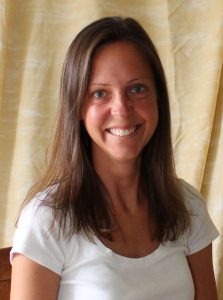 Erin Reiner has been teaching visual arts in public high schools since 2000 in Missouri, Texas, Florida, Connecticut and Colorado. Erin has taught Advanced Placement Art History since 2003 and is also experienced in distance education and virtual high school within the course. Erin was a Reader for the AP Art History Exam from 2011 through 2014, and became a Table Leader in 2015 continuing in 2016.  Erin has been a Question Leader for the AP Art History readings in 2017, 2018, and 2019, where she is responsible for the pre-reading, setting of rubrics and scoring notes, presenting, writing College Board online and workshop content, and having oversight on the scoring of her own questions. Erin started consulting for the College Board in 2014 and has run Advanced Placement Summer Institutes and one-day workshops throughout the country. Erin has contributed various resources in the development of the newly redesigned AP Art History course through the College Board, and has continued to do so since the exam was redesigned in 2015. Erin has also run art history workshops throughout her school district and state of Colorado, including organizing tours for AP art history students at the Denver Art Museum. This summer Erin was also engaged as a high school instructor for Sotheby's Summer Pre-College Institute in New York city for two weeks, in The Modern Museum class.
Erin loves working with and spreading her passion for art history to others including students in the classroom, adults at workshops, and art historians at the AP reading. Her teaching style is active, fun, and engaging, and she is always trying to expand the art history community. Her main desire is to get AP Art History into as many classrooms as possible, and make teachers and art historians feel prepared and passionate as well.  She is constantly developing resources to empower her students with the best education and preparation possible.
Personally, Erin tries to travel to view art as often as possible, recent highlights have been walking the Camino across northern Spain in 2017, visiting Mexico City for 10 days in 2018, and in the summer of 2019 could be found in England, France, Germany, Austria, Hawaii, and New York in her work teaching and sneaking away to view art.