For new and experienced AP teachers
Course Description:
This week will consist of a mix of pedagogy and content all focused on the successful implementation of the Advanced Placement World History Modern course. We will use the Course Exam and Description to pursue understanding of the expectations placed on teachers and students in the course and strategies to achieve the goals of the course. We will focus on analytical skills needed for the course as well as understanding the content described in the curriculum framework. Together, we will practice and plan lessons that help students improve their Historical Thinking Skills. Participants are encouraged to bring their laptop because most resources will be delivered electronically.
REGISTER NOW FOR THE IN-PERSON WORLD HISTORY WORKSHOP
---
Consultant: chad smith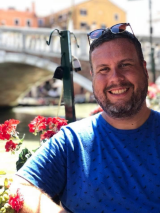 Chad Smith is the AP World History teacher at MacArthur High School in Irving, Texas. As a MacArthur teacher, he has taught on-level, honors, Pre-AP, and AP classes in both US and World History. He also coaches several academic teams, including Academic Decathlon and UIL Current Events. Chad is also an official reader, grader of the free response portion of the AP test, for the College Board and has presented at the AP National Conference. When the Coronavirus forced schools to shutdown in March 2020, Chad worked with the College Board to produce daily videos for students and teachers in a series called AP Live and you can find Chad in your AP Classroom by watching the AP Daily Videos for Units 4 and 5.