For new and experienced AP teachers
This weeklong workshop will focus on reaching a broad spectrum of background, experience, and confidence in teaching AP U.S. History. The primary goal of the course design will be to introduce new concepts and strategies aimed at helping your students be successful. Throughout the workshop we will spend considerable time analyzing the writing associated with the course and ways you can help your students stay engaged in that process, while further developing a deeper understanding of US History.
While the writing will take up much of our time together, we will also take deep dives into the course framework, scope and sequence, and specific content areas. We will also spend time discussing year one of AP Classroom so teachers are confident in their ability to use this as a resource for formative assessment. Classroom-ready activities for primary source analysis, secondary sources, and other requisite AP History reasoning skills will be an important part of our week, as well.  Participants will also be given the opportunity to examine and score DBQs, LEQs, and SAQs so they feel more confident scoring their students' responses. Our time will be collaborative, active, and it will help refine your understanding of this course. If you have attended this session before, please know we will be going over new resources, activities, and strategies germane to AP U.S. History.
REGISTER NOW FOR THE JULY US HISTORY WORKSHOP         
---
Consultant: Kyle VanderWall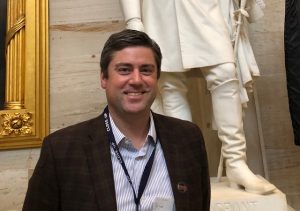 Kyle VanderWall has taught AP US History for 17 years at Grandville High School in Grandville, MI. Over that span, the program has grown from 40 students enrolled to over 100. He has worked with the College Board in a number of capacities over the last several years. For the past eleven years, he has participated in the AP Reading as both a Reader and Table Leader scoring the Long Essay and Document-Based Question. Kyle has lead numerous one-day and week-long workshops for the College Board in Hawaii, Texas, Colorado, Wisconsin, Minnesota, Illinois, Indiana, Ohio, Missouri, and back to his home state of Michigan. Last summer, he led six virtual APSIs. He was also an author of materials for AP US History Insight and the AP Online Professional Development modules, where he focused on developing strategies to help students and teachers understand the historical reasoning skills taught in APUSH. Additionally, Kyle has been an author of ancillary materials for multiple AP US History textbooks and is a contributing author for the Teacher's Edition of Fabric of a Nation: A Brief History with Skills and Sources, (bedford, freeman & worth, 2020) and Teacher's Edition of America's History, (bedford, freeman & worth, 2021). Kyle completed his undergraduate degree at Hope College, finished his Master's Degree at Grand Valley State University, and is enrolled as a Ph.D. student at Western Michigan University in the Department of History, where he focuses on internal migration patterns in the United States during the early twentieth century and historical inquiry at the secondary level. Kyle and his wife Ashley have three children, Theodore, George, and Eliza. They reside in Grandville, MI.