For new and experienced AP teachers
The purpose of this workshop is to familiarize teachers with the format of the AP Spanish Language and Culture Course and Exam.  This institute is designed for both new and experienced teachers of AP Spanish Language and Culture.  We will cover and review the format of the exam, the scoring guidelines and resources related to the course and exam, including AP Classroom.  Participants will feel able to begin teaching their own sections of AP Spanish Language and Culture and adapt and develop their own strategies to be used in their own classrooms.  Participants will be able to develop and share a lesson plan and projects to be used during the school year.  An emphasis will be placed on adapting strategies and lessons for both in-person and Remote Learning.
Goals for the Institute
To become familiar with all aspects of the AP Spanish Language and Culture course and exam.
How to build your AP program starting at levels 1 and 2
To learn and review the materials and lessons available through AP Central and AP Classroom.
To be able to learn, evaluate and implement the three modes of communication in the AP Spanish Language and Culture course.
To learn and review the scoring of the AP Spanish Language and Exam.
To learn and share best strategies for teaching the course.
REGISTER NOW FOR THE IN-PERSON SPANISH LANGUAGE WORKSHOP          
---
Consultant: jorge zamora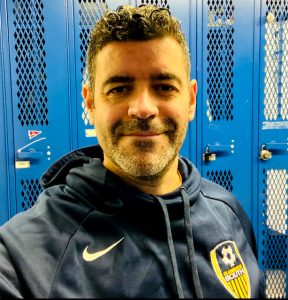 Jorge began his teaching career in 2002 at Glenbrook South High School in Glenview, IL (suburb of Chicago), where he has been ever since.  He has taught most levels of Spanish, from Spanish I to AP.  He has taught AP Language and Culture for the last 13 years and has served as an AP Reader since 2016, both as a Reader, Table Leader and as an Early Table Leader for the last 4 years, helping to select benchmarks and training sets, among other tasks.  Jorge has been a presenter on numerous occasions on the subject of AP Spanish and on the uses of technology in the World Language classroom at the local, national, and international levels.  He has made several contributions to Spanish textbooks and other publications.  He received his bachelor's degree in Spanish Language and Literature from Northern Illinois University and his master's degree in Educational Technology from Concordia University in Chicago.  Jorge is also a soccer coach for both boys' and girls' teams and has coached volleyball and track and field as well.  He enjoys reading books in both Spanish and English, working out, playing videogames and spending time with his family.
.