For new and experienced AP teachers
AP* English Language and Composition focuses on the skills articulated by the College Board*, which feature the following modes: rhetorical analysis, synthesis, and original argument. At the core of this workshop is the analysis of close reading skills; participants will examine a range of strategies with which to develop students' reading abilities. These discussions will incorporate an introduction to the announced changes related to multiple choice questions and the new essay scoring rubric. In addition to becoming familiar with all facets of the AP* English Language exam, participants will also explore ways to incorporate the world as a text and gain experience in writing assignments that integrate issues relevant to the communities in which they teach. The workshop will include an experiential lesson outside of our classroom to help participants apply the skills assessed by the exam in a real world setting. Significant time will be dedicated to meaningful collaboration with other participants and for the development of original free response passages and projects they may bring back to their classrooms. Participants will be provided with text sets to read before the institute which will act as catalysts for group discussion and opportunity to share classroom strategies. All participants are encouraged to bring their laptop and will receive numerous resources.
REGISTER NOW FOR THE ENGLISH LANGUAGE & COMPOSITION WORKSHOP
---
Consultant: Lloyd Hoshaw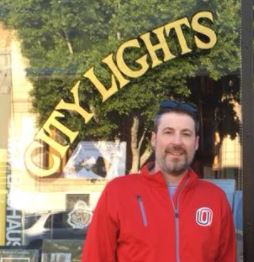 Lloyd Hoshaw has taught language arts and composition in public high schools for over 20 years. But his study of rhetoric began at age 10 with the careful creation of mixtapes, honing his skills of language selection to attend to an audience, and more recently with crafted playlists to mold his three children's taste in music. Today, Lloyd teaches at Millard West High School in Omaha, Nebraska, where he established the AP* English Language & Composition course 12 years ago and created the co-taught interdisciplinary AP* Language and AP* United States History course 7 years ago. Along with Matthew Heys, AP* US History, Lloyd co-authored a Teacher's Guide to use with Conversations in American Literature and America's History, For the AP* Course published by Bedford/St. Martin's. Lloyd has served as a reader for the AP* English Language and Composition exam since 2013 and as a co-presenter on topics related to partnering AP* English Language with interdisciplinary work at NCTE ('14, '16), NCSS ('15, '17), and the AP* National Conference ('16). In addition to teaching AP* Language and Composition, Lloyd acts as the English Department Head and teaches Literature & Film as well as two courses in the Millard Education Academy focused on developing future educators.