For new and experienced AP teachers
The Human Geography Institute focuses on both the deepening and enhancing the development of an existing course. The week will consist of content lectures, model lessons, discussions of strategies for teaching the course, and ways to prepare students for the AP* Human Geography exam and field work. There will be some new College Board materials this summer and we will definitely spend some time analyzing and breaking apart the changes in the course. The following objectives drive the week's activities:
Increase participants' content knowledge of Human Geography
Improve geographic reasoning of students and participants
Familiarize participants with texts and other resources
Discuss effective implementation of the Human Geography course
Review the content, structure, and scoring of the AP exam
Build a collaborative network with other Human Geography teachers
All major topics in the Human Geography course outline will be covered.
Participants will leave with classroom tested strategies, activities and lessons for AP Human Geography
Address issues of access and equity
Become aware of the whole College Board support system
Discuss how to develop and modify your new or existing syllabus
Participate and learn how to develop field studies for AP Human Geography
Share ideas and work collaboratively to enhance an existing course
Please bring a flash drive (min 4GB), a copy of your syllabus, a successful lesson to share (if experienced), some ideas or materials to develop a lesson, and a copy of your textbook (if you have one yet). Review your textbook and preview the course outline for AP Human Geography on AP Central (link will leave Augsburg's site).
REGISTER NOW FOR THE HUMAN GEOGRAPHY WORKSHOP
---
Consultant: DAVID PALMER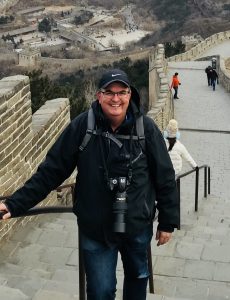 David Palmer has taught Social Studies at Eaglecrest High School in the Cherry Creek School district for over 20 years and currently teaches AP Human Geography, World Geography and World History.  Each year Eaglecrest has nearly 200 students take AP Human Geography grades 9-12. David is a Colorado Geographic Alliance Teacher Consultant, College Board Consultant, 2012 NCGE Distinguished Geography Teacher Award winner and is a table leader during the scoring of AP* Human Geography exams. David has taught and presented at numerous institutes and conferences in the United States, China, India and Japan. He was one of the authors and senior consultant of Human Geography: Preparing for the AP Examination (Perfection Learning). David has an undergraduate degree from the University of Colorado and a Masters from Colorado Christian University.