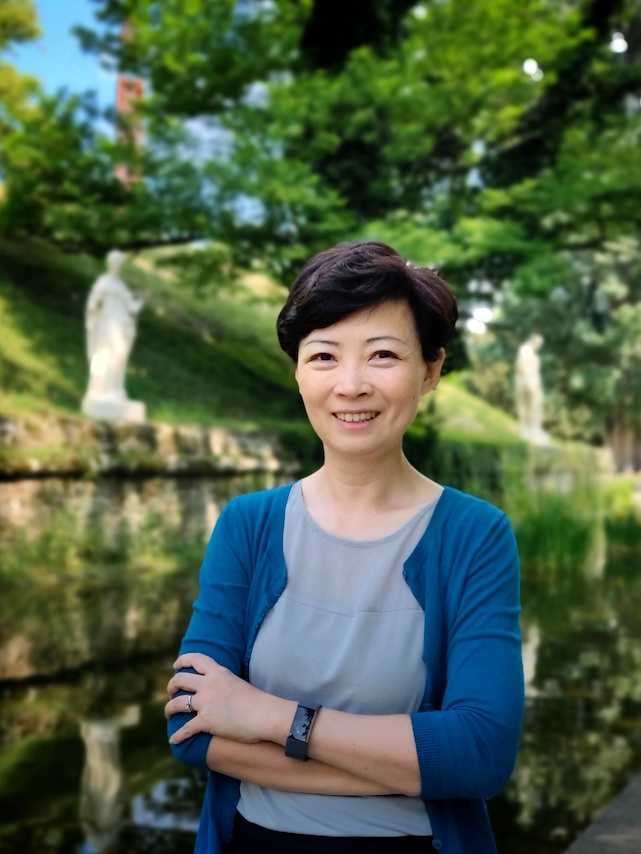 Vivian Feng is a Professor of Chemistry, and an affiliated faculty of the Environmental Studies program at Augsburg. After initiating her career as an Assistant Professor at the University of Puget Sound (WA), followed by a Research Educator position at the University of Texas, she started her current position at Augsburg University in 2008. Besides teaching analytical and general chemistry courses, Vivian enjoys teaching the highly interdisciplinary courses in Materials Chemistry, and Environmental Sciences. Vivian leads an active undergraduate research lab at the interface of bioanalytical and materials chemistry.  She applies analytical tools to probe the interactions at the nano-bio interface to better understand the environmental fates of novel nanomaterials. Her lab, a part of the NSF Center for Sustainable Nanotechnology, investigates the impact of nanomaterials to biological models, such as bacteria, model primary epithelial cells, or model membranes. She is a strong advocate for promoting diversity in the STEM disciplines. Vivian is the recipient of the 2019 Distinguished Contribution to Scholarship award at Augsburg, and is the Fulbright NAWI Graz Visiting Professor in the Natural Sciences in 2021 at Graz University of Technology.
Education
B.A. Linfield College, Chemistry, 2000
Ph.D. University of Illinois-Urbana Champaign, Analytical Chemistry, 2005
Teaching interests
Quantitative Chemical Analysis
Instrumental Analysis
Environmental Science
Science Senior Keystone
Curricular development to incorporate research projects into laboratory curriculum
Research Interests
For details, please visit my research page
Nanotoxicology
Template-assisted nanomaterial synthesis, characterization and applications in environmental remediation and in drug delivery systems
Flow synthesis with heterogeneous catalysts
Recent Publications
Gari, M.K., Lemke, P., Lu, K.H., Laudadio, E.D., Henke, A.H., Green, C.M., Pho, T., Hoang, K.N.L., Murphy, C.J., Hamers, R.J., Feng, Z.V.* "Dynamic aqueous transformations of lithium cobalt oxide nanoparticle induce distinct oxidative stress responses of B. subtilis", Environ. Sci. Nano, 2021, Advance Article.
Qiu, T. A., Guidolin, V., Hoang, K. N. L., Pho, T., Carra', A., Villalta, P. W., He, J., Yao, X., Hamers, R. J., Balbo, S., Feng, Z. V.* and Haynes, C. L.*; "Nanoscale battery cathode materials induce DNA damage in bacteria.", Chem. Sci., 2020, 11(41), 11244–11258.
Caudill, E. R., Hernandez, R. T., Johnson, K. P., O'Rourke, J. T., Zhu, L., Haynes, C. L., Feng, Z. V.* and Pedersen, J. A.*, "Wall teichoic acids govern cationic gold nanoparticle interaction with Gram-positive bacterial cell walls", Chem. Sci., 2020, 11, 4106–4118. (2020 Chemical Science HOT Article Collection)
Feng, Z.V.*; Miller, B.R.; Linn, T.G.; Pho, T.; Hoang, K.N.; Hang, M.; Mitchell, S.L.; Hernandez, R.T.; Carlson, E.E.; Hamers, R.J., "Biological impact of nanoscale lithium intercalating complex metal oxides to model bacterium bacillus subtilis", Environmental Science: Nano, 2019, 6 (1), 305-314.
Feng, Z.V.*; Gunsolus, I.L.; Qiu, T.A.; Hurley, K.R.; Nyberg, L.H.; Frew, H.; Johnson, K.P.; Vartanian, A.M.; Jacob, L.M.; Lohse, S.E.; Torelli, M.D.; Hamers, R.J.; Murphy, C.J.; Haynes, C.L.* "Impacts of Gold Nanoparticle Charge and Ligand Type on Surface Binding and Toxicity to Gram-Negative and Gram-Positive Bacteria", Sci., 2015, 6, 5186-5196.