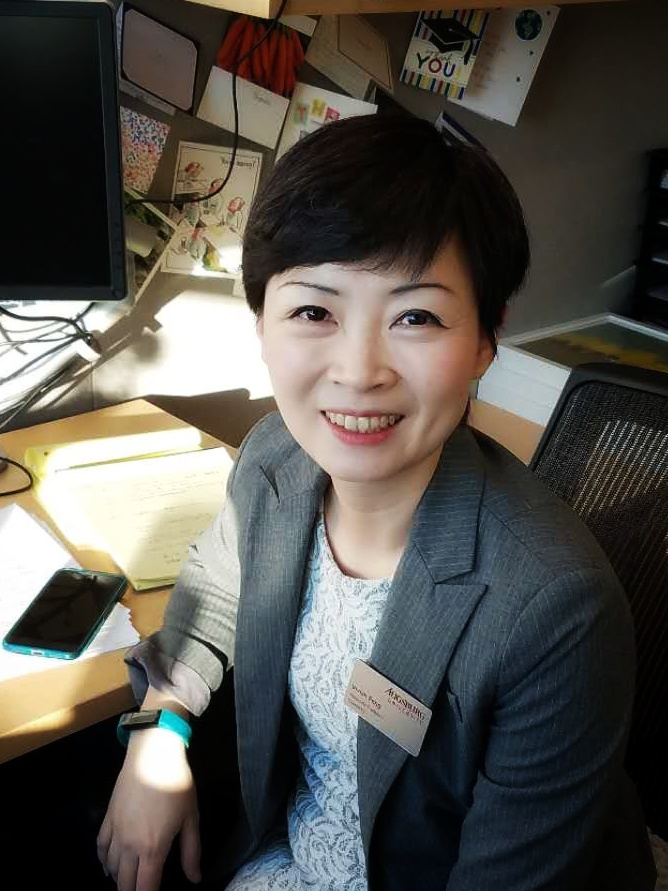 I joined Augsburg in September 2008, after initiating my career as an assistant professor at the University of Puget Sound (Tacoma, WA), followed by a Research Educator position at the University of Texas in Austin. I highly value the liberal arts environment where faculty-student interactions are a priority. Such interactions are especially highlighted through faculty-led undergraduate research activities. Personally, two months after I started college, I began to work in a chemistry lab doing research. With the guidance of so many excellent mentors along my own educational journey, I was inspired to be a chemist. Now, I want to pass this inspiration and passion on to my own students.
I am by training a surface spectroscopist and microscopist who is interested in investigating interfacial phenomena, especially those at the nano-bio interface. I have an active undergraduate research group that focuses on the applications of nanomaterials as catalysts and scaffolds for tissue engineering. Currently, as a part of the NSF Center for Sustainable Nanotechnology (CSN), we investigate the impact of engineered nanomaterials in the environment with model organisms, such as bacteria, and model membranes.
When I'm not playing in the lab with my students, I enjoy traveling and photography.
Education
B.A. Linfield College, Chemistry, 2000
Ph.D. University of Illinois-Urbana Champaign, Analytical Chemistry, 2005
Teaching interests
Quantitative Chemical Analysis
Instrumental Analysis
Environmental Science
Science Senior Keystone
Curricular development to incorporate research projects into laboratory curriculum
Research Interests
For details, please visit my research page
Nanotoxicology
Template-assisted nanomaterial synthesis, characterization and applications in environmental remediation and in drug delivery systems
Flow synthesis with heterogeneous catalysts
Recent Publications
Feng, Z.V.; Chen, W-S.; KeratiThamkul, K.*; Stoick, M.*; Yang, M-L.; Chen-Yang, Y.W. "Degradable electrospun mesoporous silica nanofiber as potential substrate for neuronal tissue engineering", Int. J. Nanomedicine, 2016, DOI: 10.2147/IJN.S93651 .
Feng, Z.V.; Gunsolus, I.L.; Qiu, T.A.; Hurley, K.R.; Nyberg, L.H.*; Frew, H.*; Johnson, K.P.; Vartanian, A.M.; Jacob, L.M.; Lohse, S.E.; Torelli, M.D.; Hamers, R.J.; Murphy, C.J.; Haynes, C.L. "Impacts of Gold Nanoparticle Charge and Ligand Type on Surface Binding and Toxicity to Gram-Negative and Gram-Positive Bacteria", Chem. Sci., 2015, 6, 5186-5196.
Klein, N.D.*; Hurley, K.R.; Feng, Z.V.; Haynes, C.L. "Dark Field Transmission Electron Microscopy as a Tool for Identifying Inorganic Nanoparticles in Biological Matrices", Anal. Chem., 2015, 87, 4356−4362.
Feng, Z.V.; Edelmen, K.R.; Swanson, B.P.* "Student-fabricated microfluidic devices as flow reactors for organic and nanomaterial synthesis", J. Chem. Ed., 2015, 92, 723−727.
Feng, Z.V.; Buchman, J.T.*; "Instrumental Analysis of Biodiesel Content in Commercial Diesel Blends: An Experiment for Undergraduate Analytical Chemistry", J. Chem. Ed., 2012, 89, 1561-1565.