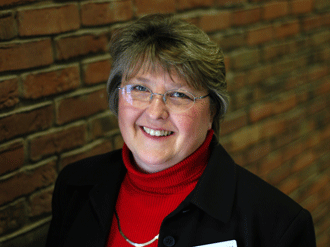 Dr. Miller is the current chair of the nursing department and teaches nursing research and leadership courses in the graduate programs – Masters of Arts in Nursing and the Doctor of Nursing-Transcultural Leadership tracks. Joyce's scholarship focuses on intercultural awareness and cultural competency of graduate students in the nursing program at Augsburg University. Dr. Miller is a trained qualified administrator for the Intercultural Development Inventory (IDI), a cross-cultural assessment tool used at Augsburg University to build cultural competence.
Joyce earned her Doctor of Nursing (DNP) degree with a focus on Transcultural Nursing Leadership at Augsburg University in Minneapolis, MN.  Her DNP project focused on the development and implementation of an innovative educational approach to provide culturally appropriate pre-natal care and education for Somali women in the Department of Obstetrics and Gynecology at the Mayo Clinic in Rochester, MN.  The Somali CARES program was designed to address the cultural and social context of the women's lived experiences to improve the health outcome of the mother and her unborn child. Joyce has continued her work with the Somali community in the Cedar Riverside area of Minneapolis, MN by working at the Cedar-Riverside Health Commons, a drop in health center, a collaborative partnership with Augsburg University Nursing Department, Fairview Health System, Peoples Center, and the East African Health Project, dedicated to improve the health of the Somali community through a model of relationship building, hospitality, and the creation of a safe and welcoming environment.
Dr. Miller has worked in various nursing roles at Mayo Clinic in Rochester, MN for 38 years. She has experience in clinical nursing as a staff nurse in pediatrics, geriatrics, home health, and operating room as well as working as a RN study coordinator in clinical research.  Joyce has had 15 years of experience as a nurse leader at the Mayo Clinic hospitals in Rochester, MN working as a Nurse Manager and Assistant Clinical Director in multiple perioperative nursing settings. Dr. Miller has been active in the Association of Perioperative Nurses Association and was instrumental in establishing a Minnesota State Council of Perioperative Nurses to legislatively address the issue of having a RN Circulator in every operating room.
Dr. Miller research activity focuses on the definitions of caring by graduate and undergraduate nurses, cultural competence of graduate nurses at Augsburg University, the impact of nursing presence of a surgical nurse communicator with family members during the perioperative period and the effects of perioperative communication on anxiety and satisfaction.
Joyce has had the opportunity to accompany students in immersion opportunities to Oaxaca, Mexico; San Lucas Toliman, Guatemala; Pine Ridge Indian Reservation, South Dakota; Managua, Nicaragua; Glastonbury, England, and an Amish practicum in Central Wisconsin.
EDUCATION
A.D.N., Rochester State Junior College, Rochester, MN
B.S.N., Augsburg University, Minneapolis, MN
M.A. in Nursing, Augsburg University, Minneapolis, MN
D.N.P. (Doctor of Nursing Practice), Augsburg University, Minneapolis, MN
RESEARCH INTERESTS
Cultural Awareness and cultural competency
Definitions of Caring
Concepts of nursing presence
Effects of communication on anxiety and satisfaction
AREAS OF TEACHING RESPONSIBILITY
Transformational Leadership
Complexity in Leadership
Nursing Research
Nursing Theory
Concepts of Civic Agency