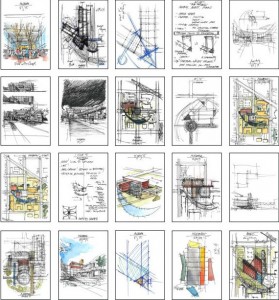 A team of committed volunteers: faculty, alumni, staff, and art consultants are working to bring beauty and inspiration into the Hagfors Center for Science, Business, and Religion.This diverse leadership team, comprised of Tim Alt, Kristin Anderson, Paul Daniels '79, Karina Karlén '83, Karolynn Lestrud '68, Heather Riddle, Jon Thorpe, Jenny Wheatley '06, along with project consultant Forecast Public Arts, will advise the selection of new, commissioned art work for this impressive building.
The Art and Identity Initiative's charge is to bring expression to the guiding principles for the new Center and Augsburg's aspirations for a 21st century urban campus. Through art and identity, the Center's key interior elements and exterior spaces will illustrate a sense of beauty, harmony with place, and a commitment to hospitality. As a way to express the transformative impact of the Hagfors Center for Science, Business, and Religion, Augsburg will commission numerous works of art. Each piece will be commissioned through philanthropic sponsorship and displayed in various locations within this new signature academic building.
Guiding principles for the Art and Identity initiative include:
It will have a bias toward enhancing the student experience, reflecting Augsburg's vision to be a "new kind of student-centered urban university, small to our students and big for the world."
It will express in its design and in artistic and concrete ways throughout the building our firm belief in the intersections and fluidity of boundaries between the academic disciplines resident in the building, as well as others across campus.
It will express in many ways our identity as a Lutheran Christian institution, firm in our faith tradition even as we engage in deep hospitality with those of other faiths and with our community.