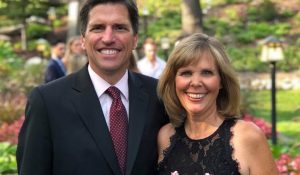 Sponsored by Augsburg University's Board of Regents, Dr. Paul Mueller '84, Augsburg's campaign chair, invites you to join Auggies in commemorating the public launch of the Great Returns: We're All In campaign on Friday, May 6, 2022. We will celebrate past and future generosity, share special announcements, and hear from Augsburg students and faculty.
Schedule
4:30 p.m. Social Hour
6:00 p.m. Brief Program
Register and watch the program live through this Zoom link.
7:00 p.m. Event Conclusion
Location
Hagfors Center for Science, Business and Religion, Augsburg University<
Business or Festive Attire | Valet Parking Provided
RSVP NOW
This event has limited capacity. Please RSVP as soon as possible or by April 29.
For questions contact Jessica Brooks at brooksj1@augsburg.edu or 612-330-1756.
COVID-19 Protocols
Hennepin County has moved to a medium-level threshold for COVID-19 cases. At the medium level, the CDC recommends that people who are immunocompromised or have a high risk for severe disease talk with a physician and consider precautions, such as masking indoors and regular testing. More detailed information is provided under the "COVID-19 Community Level and COVID-19 Prevention" section of the CDC's COVID-19 Community Levels web page. Augsburg's on-campus case rate remains low, and at this time, Augsburg is not implementing any new or additional COVID-19 requirements. Masks will not be required at this event.